First-Timer's Guide to Skiing & Snowboarding
How to Have a Great Day on the Slopes
What to Expect Before You Hit the Slopes
As Southern California's year-round home for alpine good times, Big Bear Mountain Resort (BBMR) offers the region's best snow conditions and largest learning areas, with terrain and on-site amenities for skiers and snowboarders of all ages and abilities. BBMR is one of the industry's most renowned destinations, with over 430 combined acres of terrain, including the first terrain park in North America (Outlaw, 1992), SoCal's only halfpipes and highest lift-served peak (8,805 feet), amazing aprés, and plenty of can't-miss events. Whether you come for the day or extend your stay, there's more to explore at Big Bear Mountain Resort.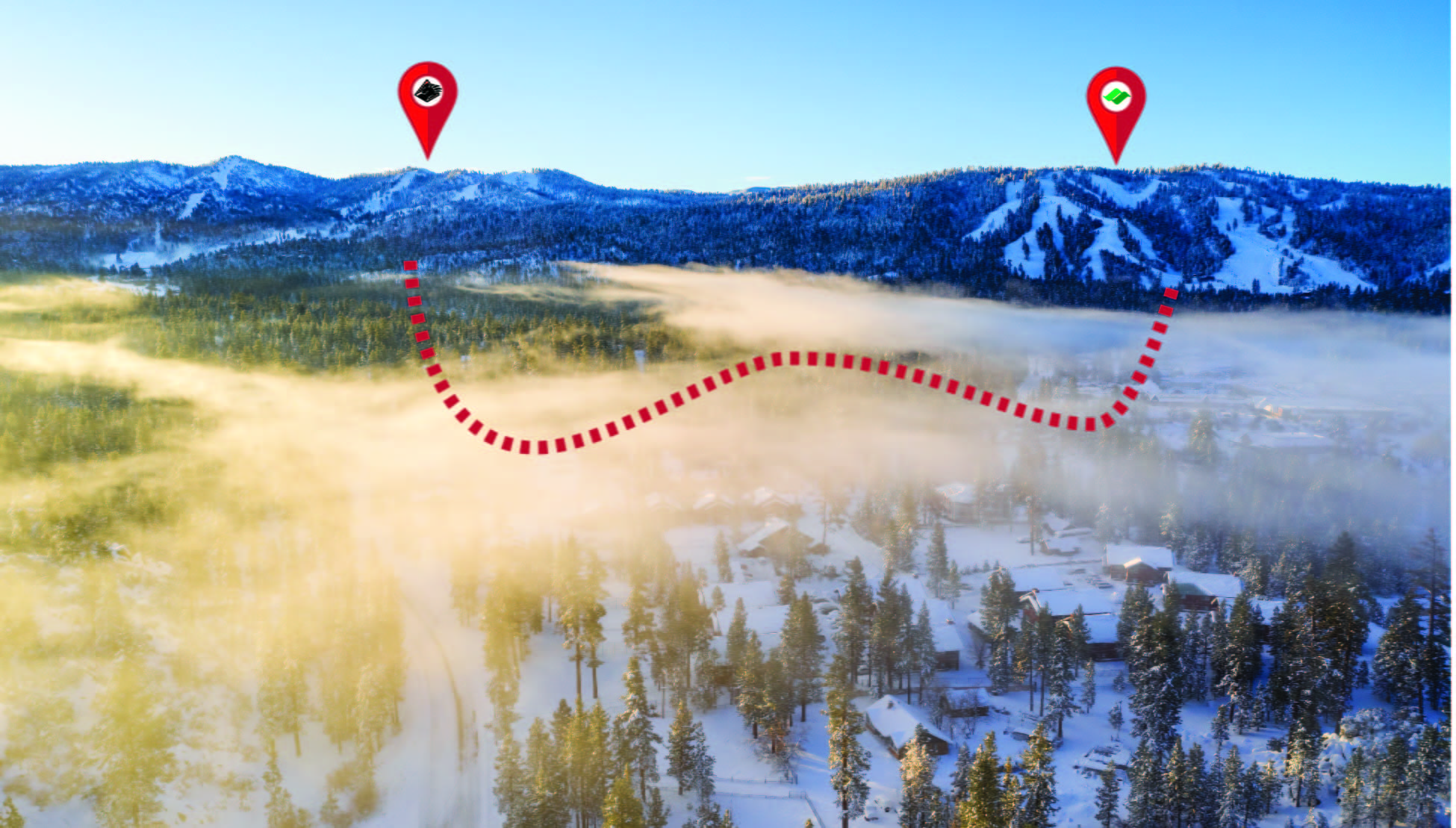 Our Mountains - Bear Mountain & Snow Summit
Big Bear Mountain Resort operates two properties – Bear Mountain and Snow Summit – located 2 miles apart in Big Bear Lake. To give our guests more mountain for their money, all
BBMR and Ikon Passes
are valid at both locations, including Night Sessions at Snow Summit. All daytime
lift tickets
are valid for same-day use at both mountains, but
Night Session
tickets must be purchased separately and are only valid at Snow Summit. At this time, Bear Mountain and Snow Summit do not have any interconnected lifts or terrain, but guests can take the
free Intermountain Shuttle
to get from one mountain to the other.
Please note, a valid lift ticket or season pass is required for all on-hill activities. At this time, BBMR does not offer snow play.
All resort trails are designated by name along with a color and shape to indicate their difficulty. Beginners and first-time visitors should start on easier trails (green circle) before advancing to intermediate (blue square) or advanced/expert (black diamond) trails, including terrain parks (orange oval).
| Color | Rating | Recommended for Beginners |
| --- | --- | --- |
| Green | Easier | Yes |
| Blue | More Difficult | No |
| Black | Most Difficult | No |
| Double Black | Expert | No |
| Terrain Park | Features | No |
Explore the differences between Bear Mountain and Snow Summit to find the best fit for you, or go big and ride both sides on the same day.
Bear Mountain


Known for its award-winning terrain parks and expansive beginner area, Bear Mountain offers a fairly even mix of terrain (30% beginner/low intermediate, 40% intermediate, 30% advanced/expert), with 18 miles of rideable trails and 1,665 feet of vertical drop, including Southern California's highest lift-served peak (Geronimo, 8,805 feet).

Beginner trails, including Inspiration (the beginner area), Learning Curve, and Easy Street are accessible from chairs 6 and 7, located on the east end of the base area,

with intermediate and advanced terrain accessible from chairs 2, 3, 4, 5, 8, and 9.

For interactive trail maps and mountain stats, visit the

Trails Maps

page.

Snow Summit


Famous for its snowmaking infrastructure and family-friendly feel, Snow Summit has a great mix of terrain (35% beginner/low intermediate, 40% intermediate, 25% advanced/expert), with 17 of rideable trails and 1,200 feet of vertical drop.

The Bear Bottom Beginner Area is directly accessible from chairs 4 and 8, with additional beginner/low intermediate trails, including Summit Run, Skyline Creek, and Cruiser accessible from chairs 1 and 9.

Intermediate and advanced/expert terrain, including Miracle Mile, The Wall, and Westridge terrain park, is accessible from chairs 1, 2, 3, 5, 6, 7, and 10.

For interactive trail maps and mountain stats, visit the

Trails Maps

page.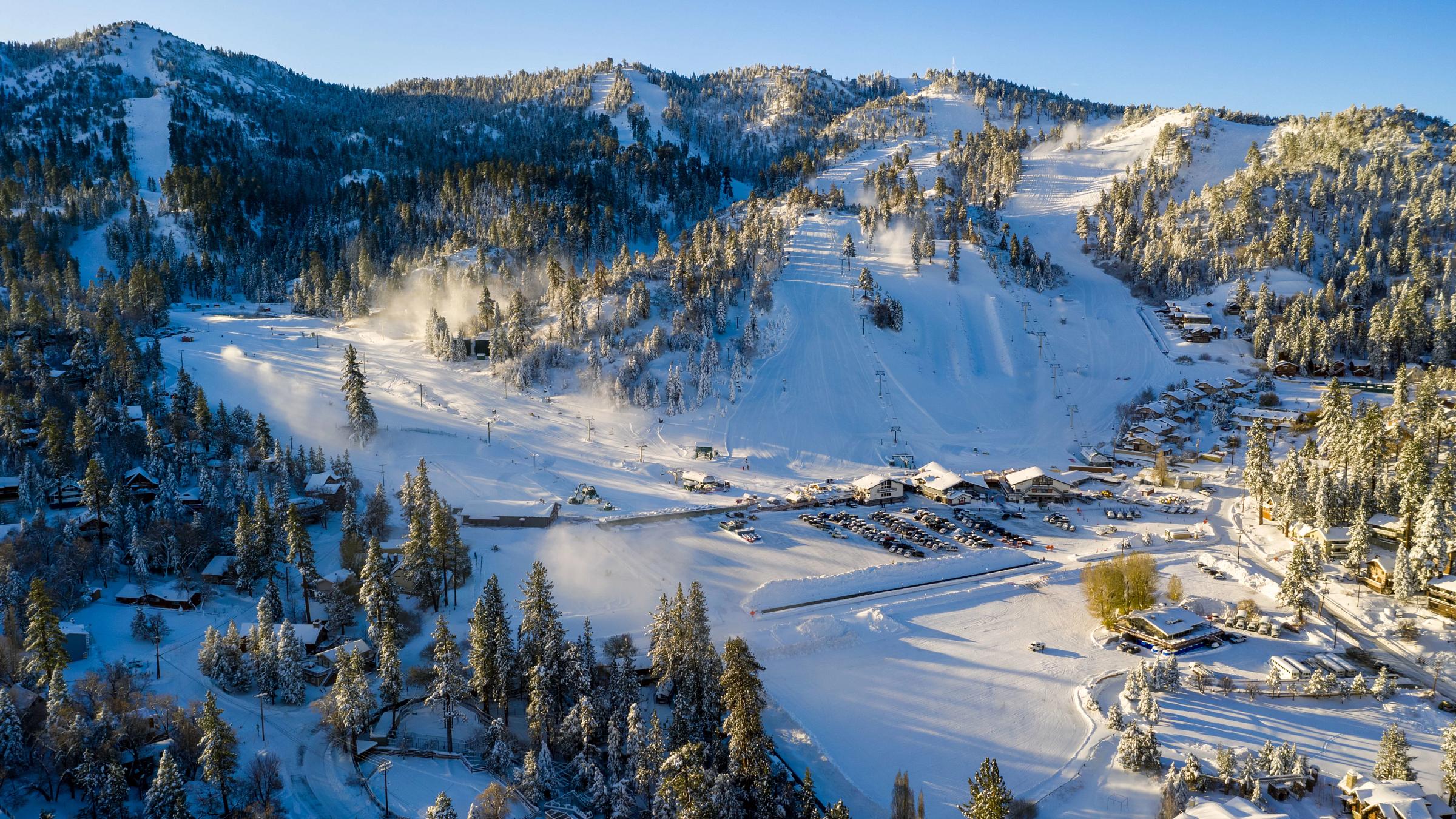 Best Time to Go
As the saying goes, "Timing is everything," and the same is true when it comes to choosing the best time to come enjoy BBMR's fun-filled atmosphere and dependable snow conditions. At BBMR, the winter can be divided into three mini-seasons that have their own characteristics: early, mid-season, and spring.
Early Season

(November - December)

During the early months of the season, the weather transitions from cold and crisp to winter wonderland. Natural snowfall can vary, but our incredible Snowmaking Team helps get the alpine good times going by working around the clock

as conditions permit

to build base depths and get as many trails open as possible. Visitation is usually at its highest from mid-December through New Year's and products, including lift tickets, lessons, and equipment rentals may sell out, so be sure to plan ahead and book in advance.

Pros Cons

Typically less than 100% terrain open



Mid-Season

(January - February)

A mother's work is never done, and Mother Nature usually saves her biggest undertaking for the start of the new year, which is when BBMR typically receives the most natural snowfall each year. The new snow, along with snowmaking as needed, usually produces the best snow conditions of the season and ensures 100% open terrain at both mountains.

Pros

Deepest snowpack of the season
Two national holidays (Martin Luther King Jr. Day & Presidents Day) to celebrate on the slopes
Typically 100% open terrain
Less midweek visitation than during the holidays

Cons

Higher visitation on weekends



Spring Season

(March - April)

As the season starts to wind down and the temps tick upward, the snow softens and becomes more forgiving for beginners. Springtime is also when guests can score great deals on lift tickets and season passes while enjoying sunny skies, shorter lift lines, and wide-open runs.

Pros

Complete the California Trifecta
Great deals for spring lift tickets
Less visitation as season comes to an end
Warmer weather, softer snow conditions

Cons

Less terrain open due to snow melt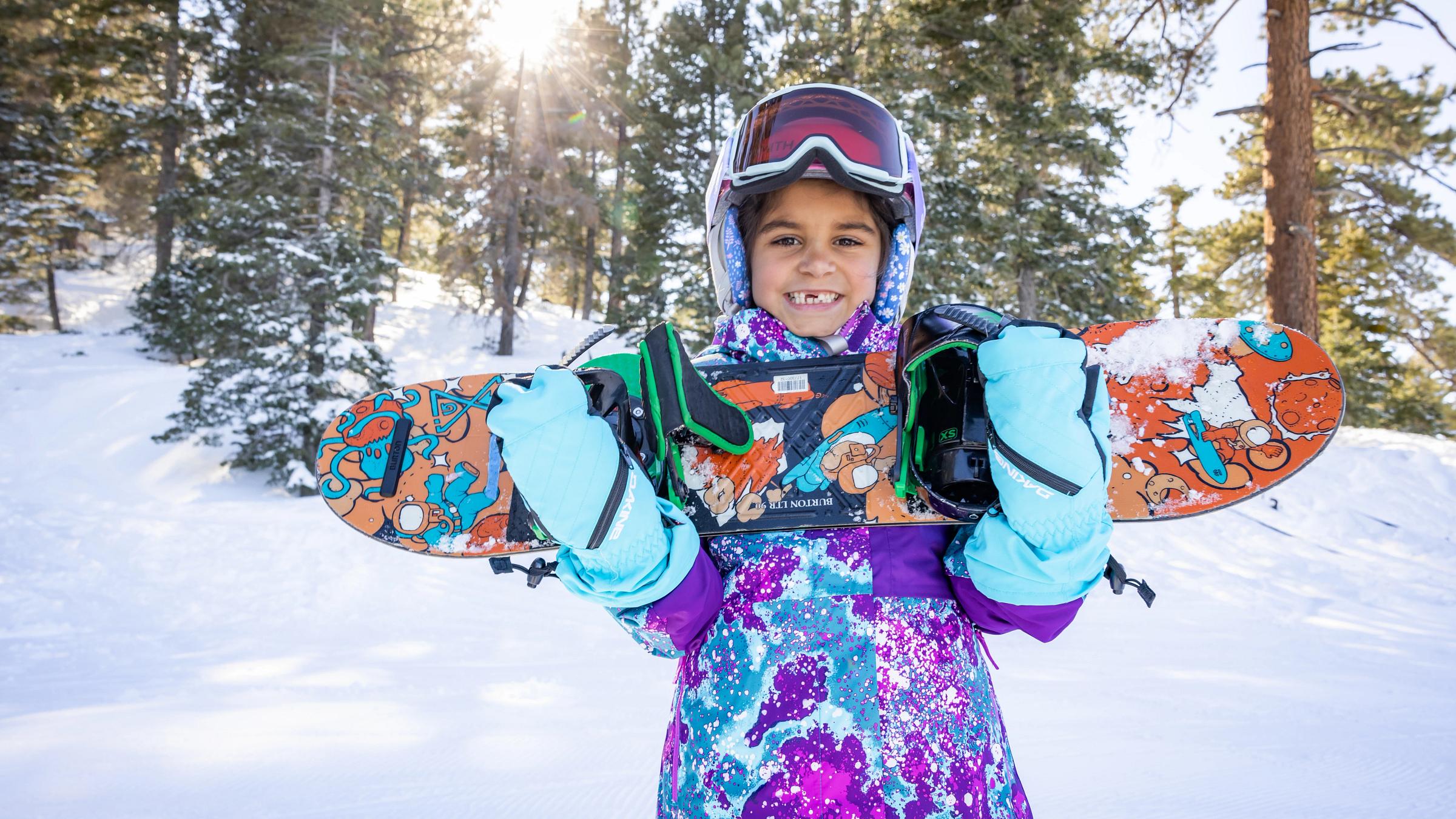 What to Wear
Weather conditions and temperatures can vary greatly in the mountains. BBMR highly recommends all guests wear multiple layers, including a moisture-wicking base layer, insulating middle layer, and water-resistant outer layers. Helmets, water-resistant accessories (ex. gloves), mid-calf socks, and protective eyewear (goggles or sunglasses) are also recommended.
Season pass or lift ticket to access terrain, even if your skill level does not require the use of chairlifts
Helmet (required for ages 12 & under, highly recommended for ages 13+)
Proper equipment (snowboard/bindings/snowboard boots or skis/poles/ski boots)
Eyewear (goggles or sunglasses)
Water-resistant jacket
Snow pants
Water-resistant gloves
Sunscreen (SPF 30+)
Lip balm
Mid-calf socks
UV exposure is 2% higher for every 1,000 feet above sea level, so remember to use sunscreen with SPF 30 or higher during your visit – even on cloudy days – and reapply throughout the day.
If you forget something, or just want to grab some Bear Mountain or Snow Summit branded gear, stop by Big Bear Sports, located in the base area. If you have a question or need further assistance during your visit, just ask a resort host in a bright green BBMR jacket stationed throughout the base area.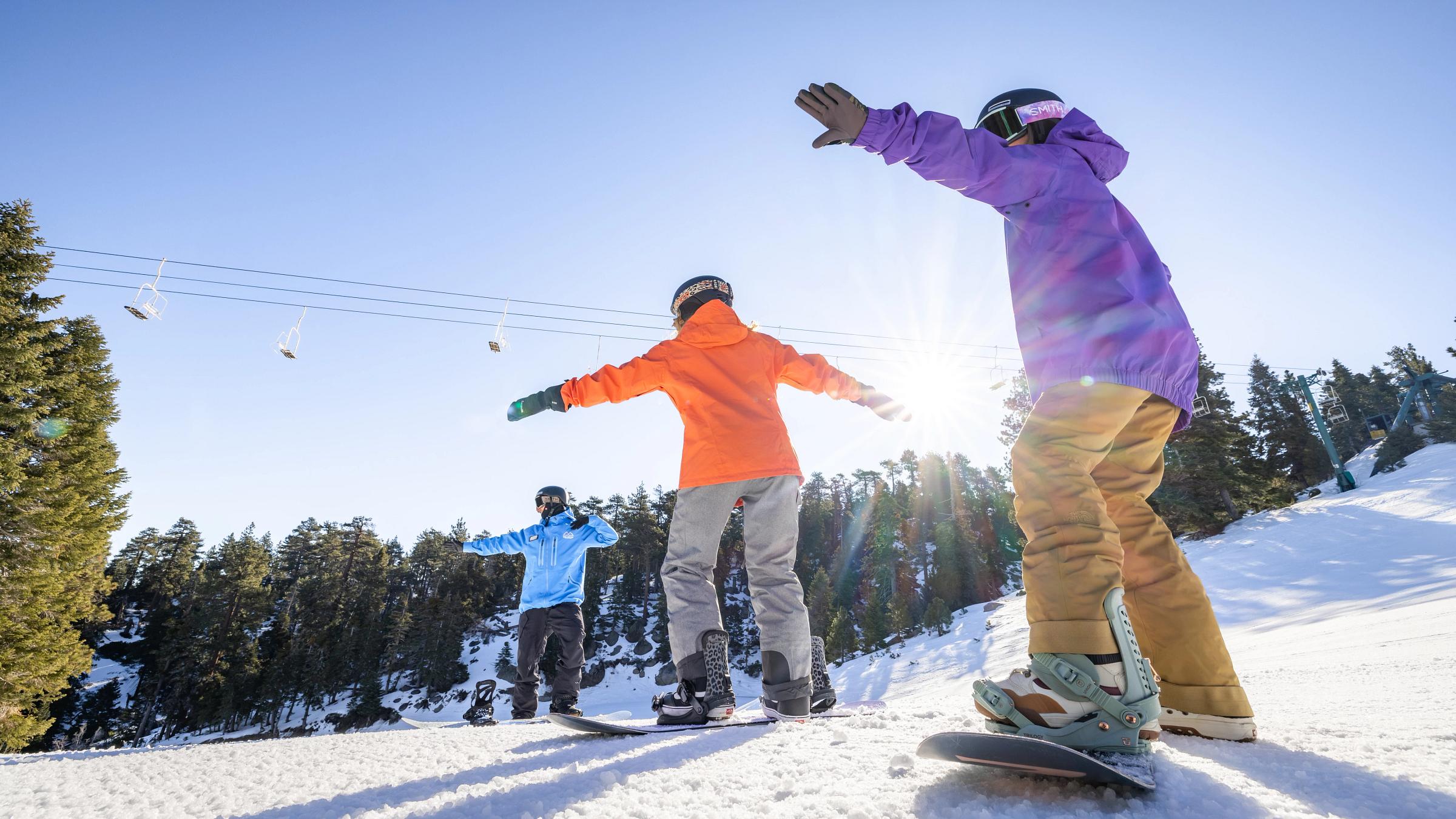 Private & Group Lessons
The fastest way to ruin a trip to the mountains is to ask a friend or family member to teach you how to ski or snowboard, so do yourself (and them) a favor and book a lesson instead. BBMR offers
private and group lessons
at both mountains with certified instructors to elevate your skills in a fun, safe environment. Private lessons are open to ages 4 and up and group lessons are open to 5 and up. We also offer adaptive programs at Bear Mountain for ADA guests who love to ski or ride.
NOTE: Lesson reservations do not include lift tickets or equipment rentals. All lessons at Bear Mountain and Snow Summit must be booked with a BBMR instructor. Lessons offered by 3rd party/independent instructors are not permitted.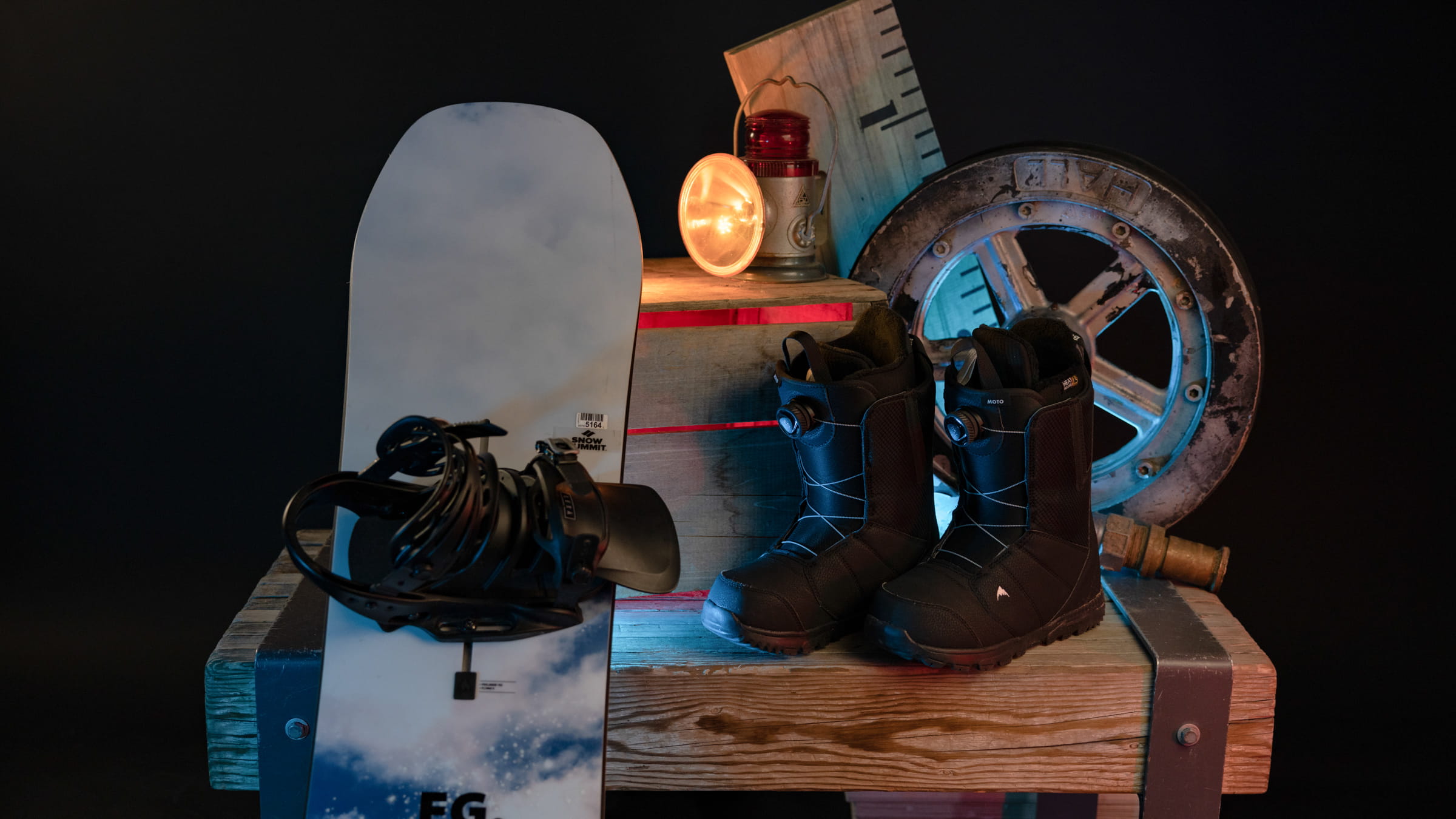 Equipment Gear
If you want to have fun on the slopes, you need to have equipment that is functional and well-fitting. Borrowing or using hand-me-down equipment may seem like an easy way to save some money, but it will end up costing you in terms of comfort or possible injury. Get the right gear by
renting on-site from Big Bear Mountain Resort
, including a personal fitting by a certified equipment technician and free adjustments or exchanges, to make sure everything fits and functions properly before you hit the snow.
It might seem simple, but the better your gear fits, the more fun you'll have on, and off, the mountain. Whether you ski or board, the key is to make sure your boots have the right amount of stability and flexibility so you can get from the base area to the lifts AND properly maneuver your skis or board on the hill.
Looking to buy? Here are some guides on what to look for when buying a
snowboard
or
snow goggles
. Our guide for skis is coming soon.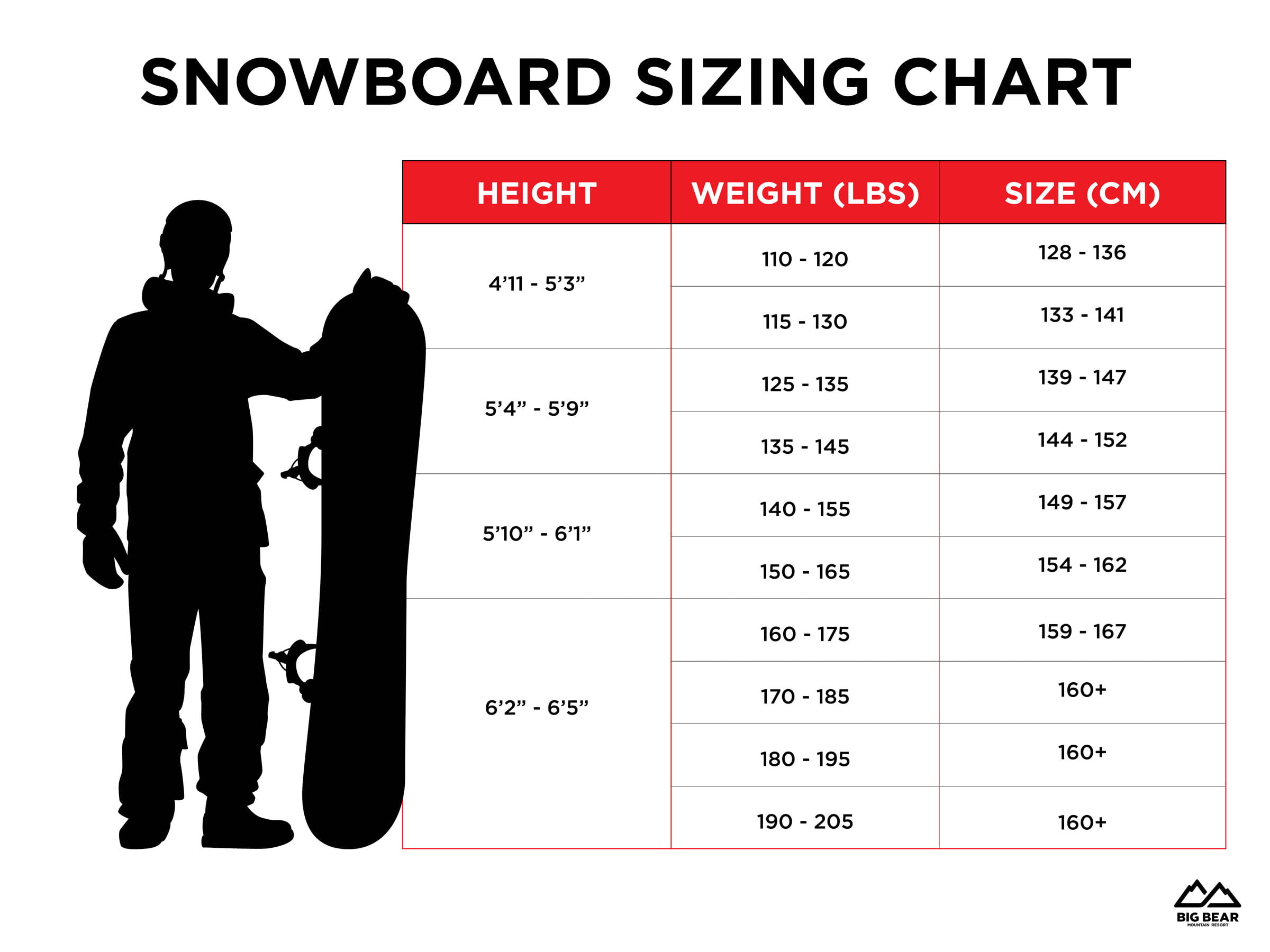 If you need assistance, or just want a second opinion to make sure your boots are properly adjusted, stop by one of our rental or repair shops and talk to one of our equipment techs.
Big Bear Mountain Resort offers on-site ski and snowboard
equipment rentals
. Rental shops offering the latest equipment, including skis, snowboards, boots (child sizes 1-13), and helmets are conveniently located in both base areas for easy pick up and drop off.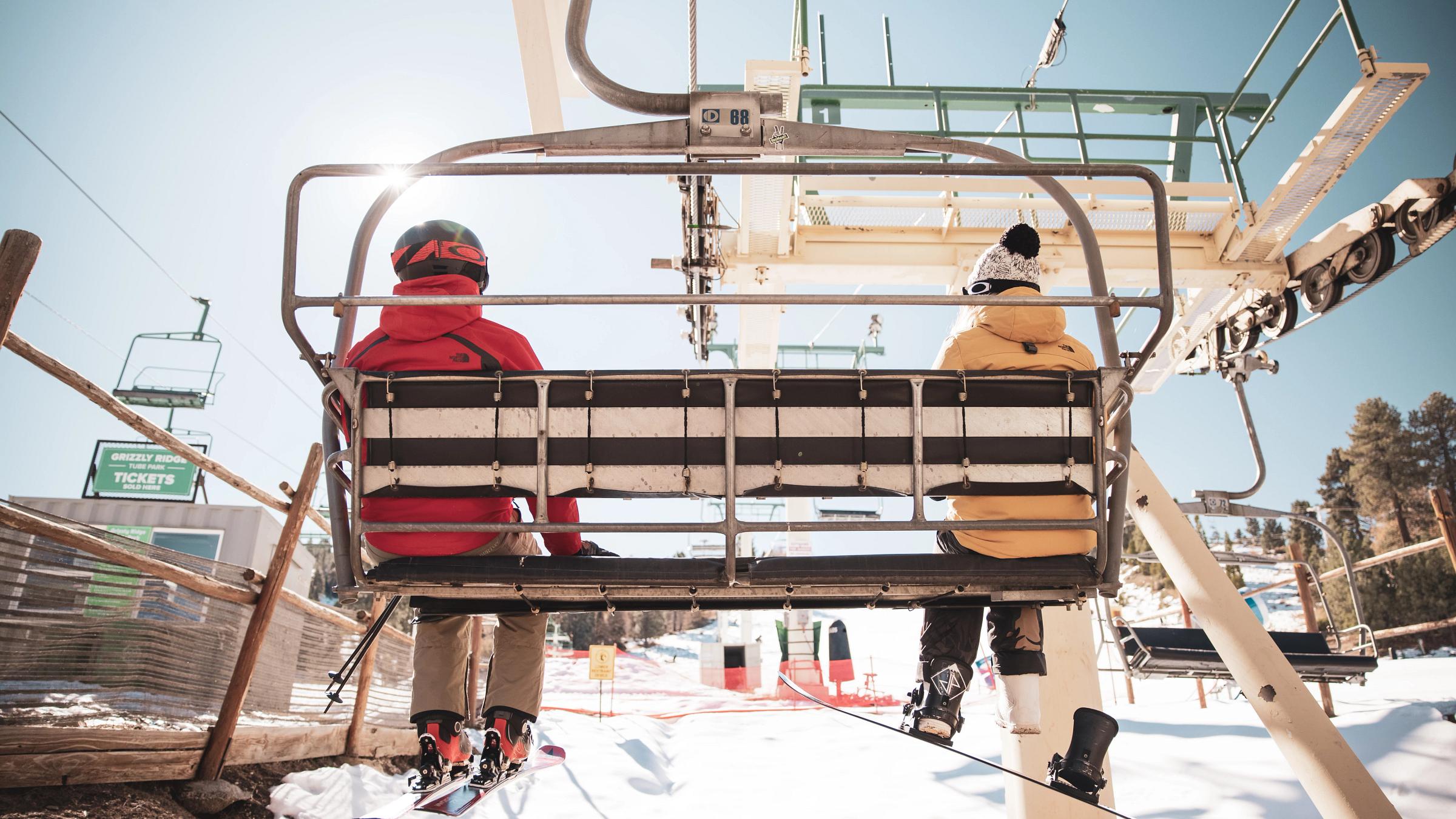 Chairlift Safety
For most people, riding the chairlift is the most nerve-racking part of skiing or riding, but have no fear because we're here to walk you through how to ride it like a pro. Before you get on the chairlift take a minute to secure loose items like gloves or goggles and make sure any pockets containing valuables are fully closed.
To board, enter the loading area, stop at the red line, and look over your outer shoulder so you can see the chair as it approaches. If you're by yourself, sit in the middle of the chair and look over either shoulder. Skiers should hold their poles in one hand when boarding and snowboarders should be mindful of their boards when loading so they don't ding their fellow lift mates' gear.
If you need assistance or have any other questions, be sure to ask the lift operator before entering the boarding area. Remember, it's always better to have asked and boarded safely than to have never asked at all.
After you've successfully boarded the chairlift, take a second to make sure you're seated as far back as possible and lower the safety bar if the carrier has one. Never lay down or position yourself in a way that might cause you to lose balance and fall off the chair. Also, be mindful of wet or icy conditions as they may make loading and unloading more difficult.
To unload, raise the safety bar as you approach the lift terminal and move slightly forward on the seat with your skis or board pointed up until they make contact with the ground. When you reach the unloading area, push yourself off the seat and proceed down the runway, exiting to either side to avoid creating any congestion for anyone unloading behind you. If you are unloading with others, be sure to communicate which way you plan on exiting to avoid a runway collision.
Learn About Snowboard Gear
See how a snowboard works, learn what socks to wear, watch how to put on your boots and snowboard, and see how to carry a snowboard.
Basic Movements on a Snowboard
Watch how to get around on your snowboard on the snow, learn how to get up from a sitting position, and see how to move uphill.
Snowboarding Balance Fundamentals
View these balance fundamentals to help you get better, faster at snowboarding.
Learn About Ski Gear
See how a ski works, learn what socks to wear, see how to put on your boots and skis, and watch how to carry your skis.
Basic Movements on a Skis
Watch these basic movements to learn how to get around on your skis, pick up your ski pole, and get up from a seated position.
Getting Around on Skis
See how to turn your skis, how to stop on your skis, and how to get on and off a chairlift.
Plan a Trip
Now that you know the basics about all that Big Bear Mountain Resort has to offer it's time to plan your next trip to SoCal's snow capital to experience some alpine good times. Just be sure to book in advance to secure your spot on the slopes and lock in the lowest rates on lift tickets, lessons, and rentals and remember to always check road conditions before heading to/from the mountains. Let's ride!
Plan a Trip