Snowmaking Underway at Bear Mountain & Snow Summit
Winter is (Slowly) Making Its Way to the Mountains
Blog Posted: November 24, 2021
Photos Taken: November 23 & 24, 2021
This week, snowmaking operations commenced at Big Bear Mountain Resort, with overnight temps dipping into the low-20s with relatively low humidity and light winds. Conditions permitting, the snowmaking team plans to keep the snow guns active as long as possible to take advantage of forecasts calling for Santa Ana winds and low humidity, as we continue to prep for the upcoming 21/22 season.
Note: Opening dates for the 21/22 winter at Bear Mountain and Snow Summit have not been announced. Please check the Hours page for updates, or get the latest BBMR news by signing up for
SMS text alerts
.
So far, the snowmaking team has completed the toughest part of the process by freezing the ground and laying the first layer of snow on designated runs at both mountains. The frozen ground helps hold the man-made snow together and makes it easier to start building a strong base for additional snowmaking and grooming.
At Snow Summit, snowmaking is in progress near Chair 1 (Miracle Mile) and the Bear Bottom Learning Area between chairs 4 and 8. At Bear Mountain, the guns are being deployed near Chair 9 and the Learning Area near Chair 7.

Snowmaking 101


Man-made snow is produced by combining compressed air and water using machines called snow guns, which cool and atomize the water while blowing it into the air where it crystallizes to form snow. The snow's density can be adjusted by changing the air/water mixture to produce heavier snow for base layers or lighter snow for groomed runs.

Big Bear Mountain Resort purchases water for snowmaking from the Big Bear Municipal Water District (WMD). The amount of water used for snowmaking equates to approximately 4 inches of surface water, with nearly 90 percent returning to the lake via ground absorption and runoff waterways. For comparison, Big Bear Lake averages 1-2 feet of natural evaporation during the summer.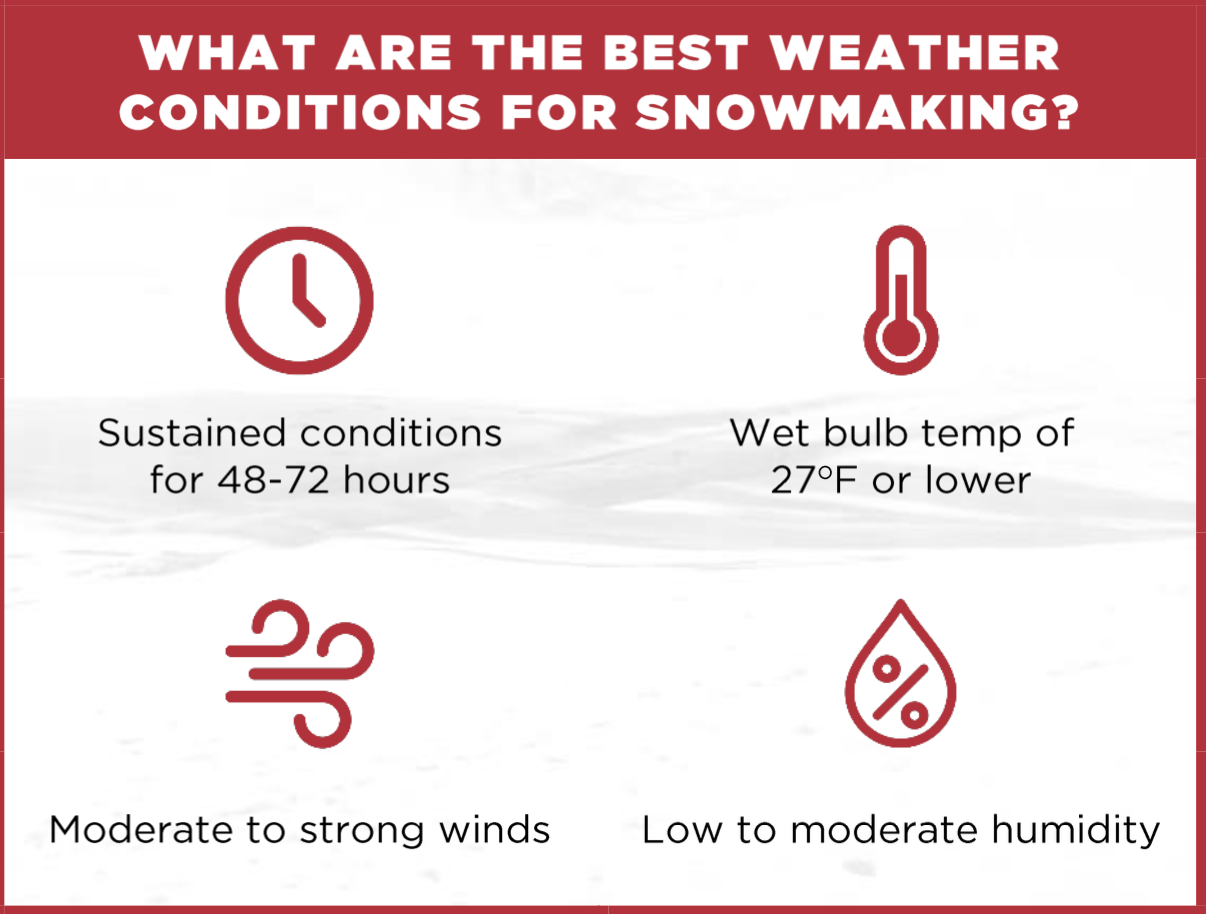 Get Ready for Opening Day Updates

Start planning your trip to the slopes by grabbing a
21/22 Ikon or BBMR season pass
, including the all-new Dual Season Pass for unlimited access at Bear Mountain and Snow Summit in the
winter
and
Summit Bike Park
in the summer. Hurry, season passes are available for a limited time and BBMR season pass prices go up Dec. 10.