How to Choose Skis
What to Know Before You Buy
Get Your Gear Right
What to Look For When Buying Skis
If you've been sporting the same skis since acid wash jeans and Members Only jackets were in style it might be time to upgrade your gear, but where to start? Whether you're looking to retire your retro gear or purchase your first pair of planks, we're here to help. With all the new shapes, styles, and technology advancements, choosing the right pair of skis might seem a bit overwhelming, but with a little education and some careful consideration, you'll be able to find the perfect pair for your size, style, and skill level.
Before we drop into the nitty gritty, there are a few factors to consider when selecting a pair of skis: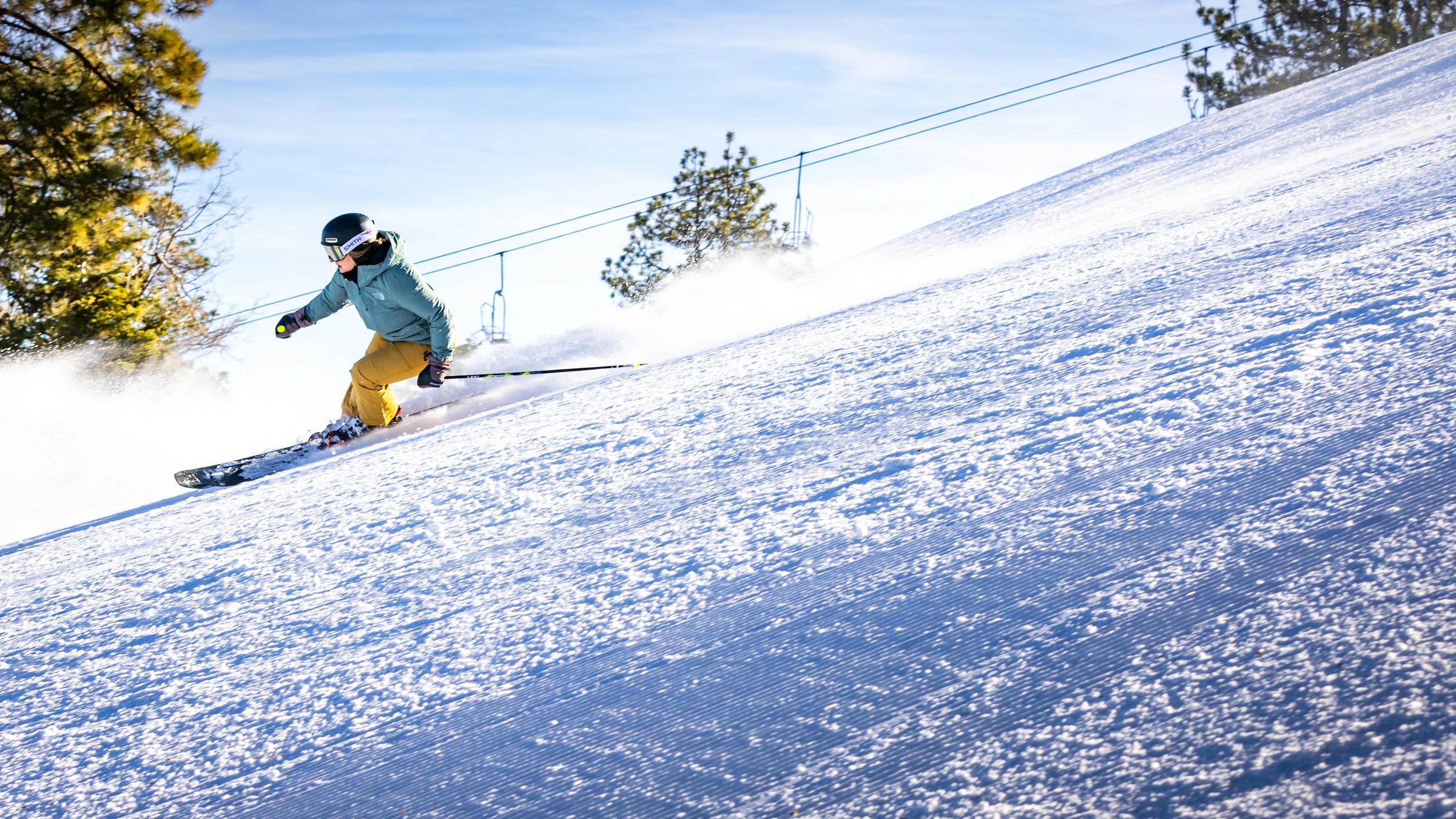 Experience
The first thing to consider (and be totally honest about) is your skiing experience and skill level.
Beginner: New to skiing and/or learning the basics (turning, stopping, speed control, loading/unloading lifts); comfortable in the beginner area and on green () trails
Intermediate: Some previous skiing experience; able to turn, stop, control speed, and load/unload lifts without assistance; comfortable on green () and blue () trails
Advanced: Extensive skiing experience; able to maintain proper technique in all terrain, weather, and snow conditions; comfortable on all trails, including black ( or ) and/or park features ()
If you're new to skiing, those trendy extra-wide skis with twin tips won't make much of a difference if you're learning the basics and sticking to the bunny slopes. Similarly, if you're ready to ride more challenging terrain or want to start shredding park features, a pair of straight and narrow skis aren't going to do the trick either.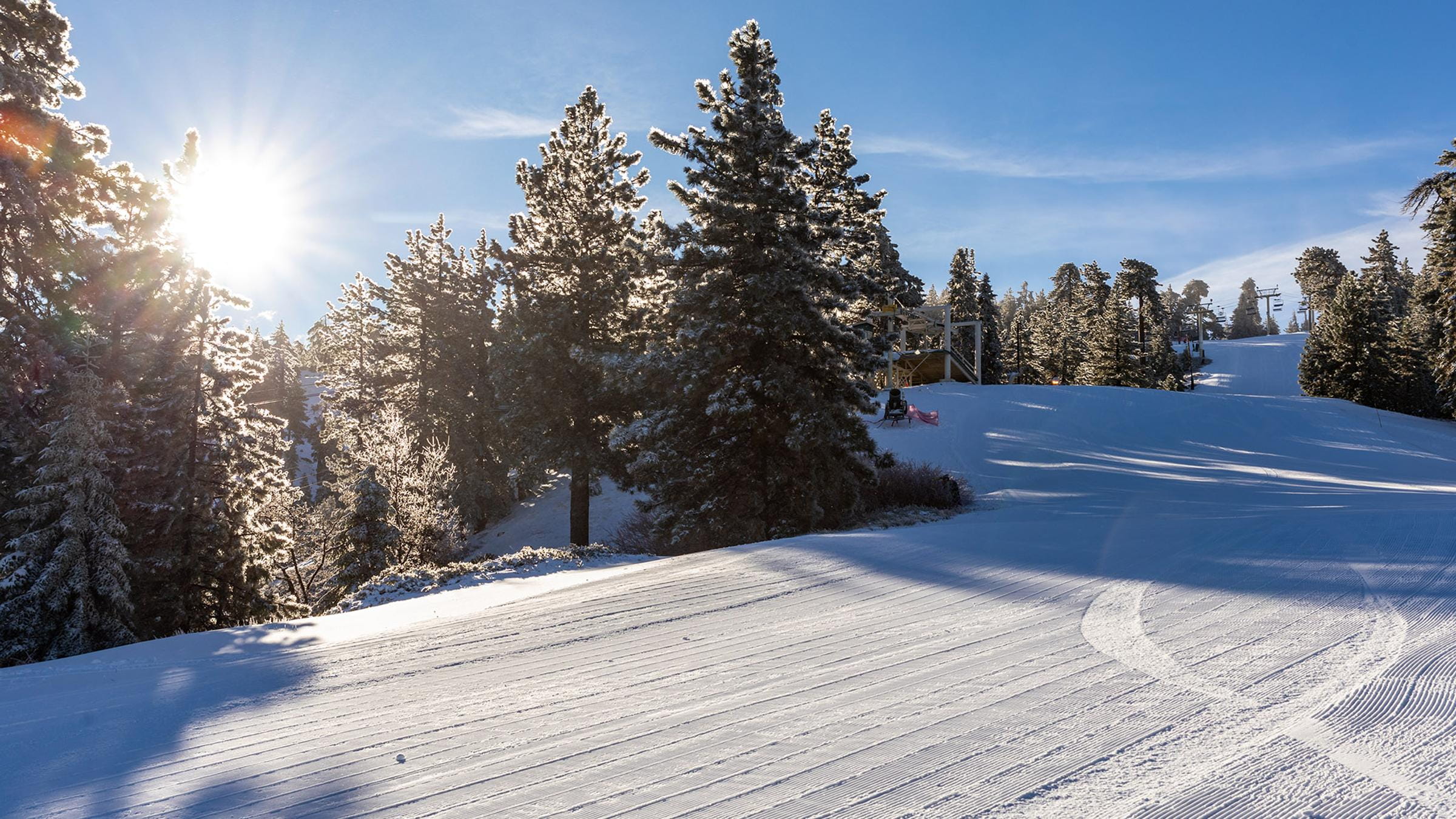 Terrain
Once you've accurately assessed your experience/skill level (be honest!) it's time to determine what type of terrain you'll be riding most of the time. The most common ski terrain categories are:
All-mountain: Designed for groomed trails and light powder. All-mountain skis are the most common/popular ski type due to their functionality and versatility.
Freestyle: Designed for freestyle terrain and terrain parks. Freestyle skis usually have twin tails and are more symmetrical than other ski types to make riding switch (backward) and navigating park features easier.
Powder: Designed for ungroomed trails and moderate-to-heavy powder. Powder skis are typically wider and longer to enable skiers to float through fresh, deep snow without sinking or slowing down. On the flip side, that extra width and length can make riding groomed trails more difficult.
Backcountry: Designed for ungroomed terrain and heavy powder. Similar to powder skis, backcountry skis are typically longer, wider, and lighter than other skis to perform well in off-piste terrain, but not on groomed trails or freestyle terrain.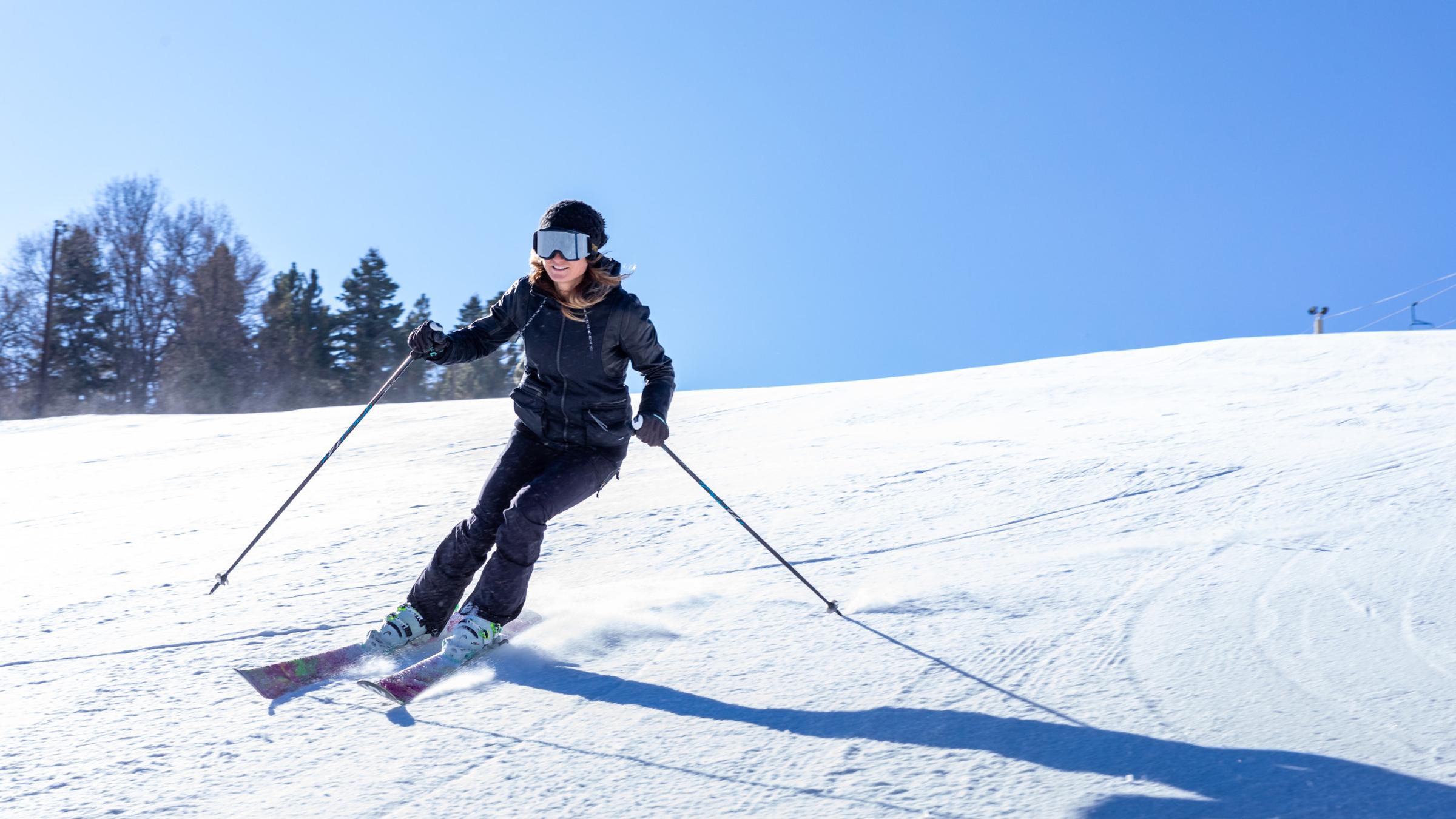 All-Mountain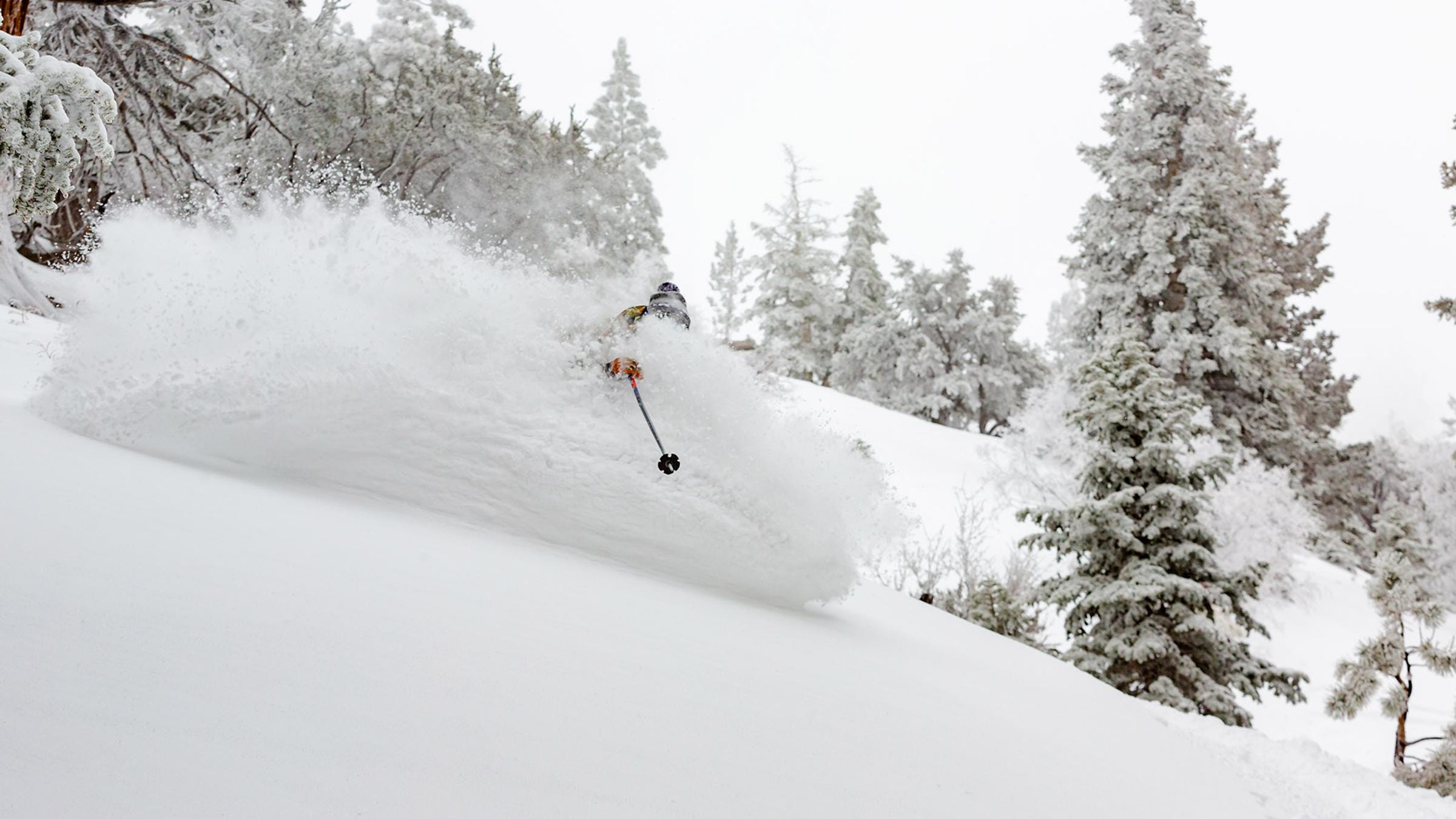 Powder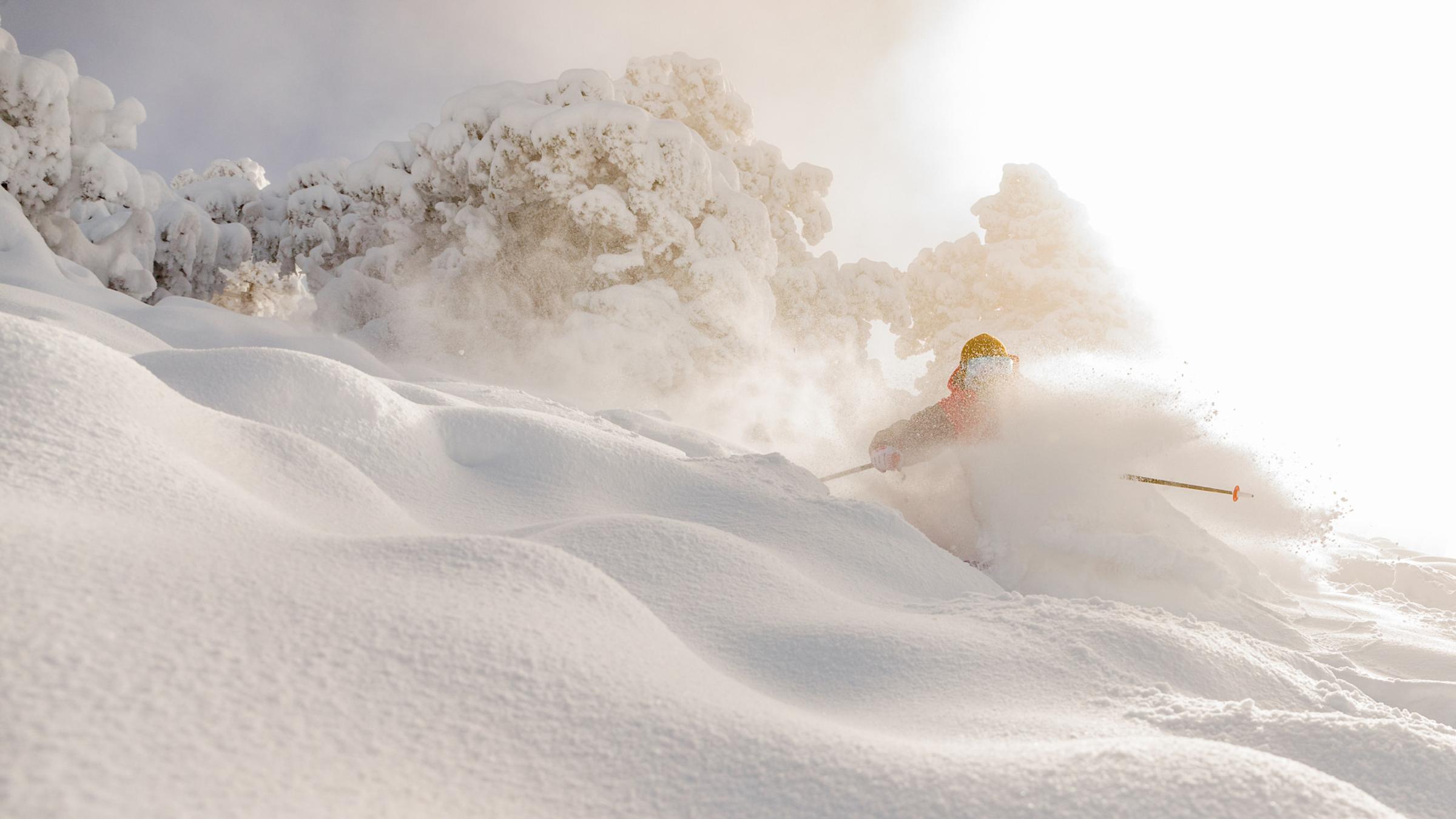 Backcountry
Weight/Height
Finally, before you make a decision, remember to factor in your height and weight.
In general, your skis should be somewhere between your chin-to-forehead when standing on edge, but that may vary depending on your weight. While it's always best to get fitted in-person, you can utilize the chart below for estimated ski lengths (categorized by beginner/intermediate and expert) as a way to start your search.
Shorter skis are more maneuverable and easier to turn (and therefore appeal to beginner skiers), but typically don't provide the same speed or stability as longer skis. If you're planning on doing a lot of backcountry skiing, you may want to consider a slightly longer ski for added stability.
A shorter ski will be more maneuverable and easier to turn (and therefore appeal to beginner skiers); however, shorter skis typically do not have the same speed or stability as longer skis. If you're planning on doing a lot of backcountry skiing, you may want to consider a slightly longer ski for added stability.
Rocker
Another element to consider is the ski's rocker. Rocker refers to the amount of curvature in the tip and tail of the ski when it's viewed from the side. Skis with a lot of rocker will be easier to turn and will float better in deep powder, while skis with less rocker will be more stable at high speeds and will provide better edge grip on hard snow. Skis with more rocker are great for beginner and intermediate skiers who want an easy-to-control ski, while advanced skiers may prefer skis with less rocker for more precise control.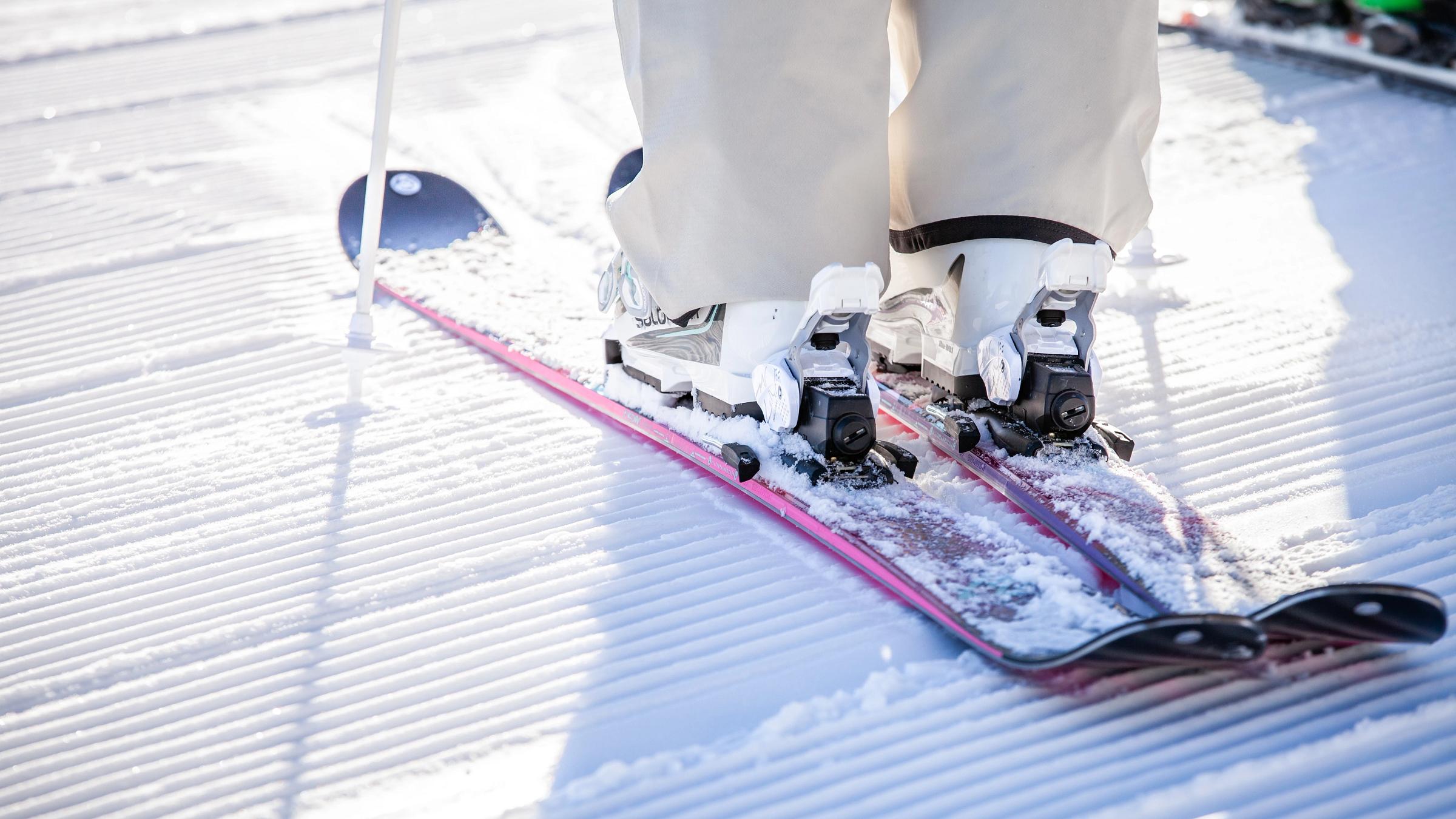 Camber
Similar to the rocker, camber refers to the amount of arch in a ski when it's held on edge. Beginner and intermediate skiers should look for skis with more camber for added stability, while advanced skiers may prefer a ski with less camber for increased maneuverability in deep powder.
It's also important to remember that you'll need the right boots, bindings, and poles to complete your setup. We also highly recommend consulting a professional equipment technician for additional guidance and testing the skis if possible before making the final decision.
If you want to try before you buy, Big Bear Mountain Resort offers on-site equipment rentals, featuring the latest equipment with free exchanges or adjustments. Plus, if you reserve at least 7 days in advance, you can save 20% on all rentals, subject to availability.
*Equipment rental reservations do not include lift tickets or lessons. For more information on rental, lesson, and lift ticket packages, visit the
Equipment Rentals
page.