Summit Mining Co
Uncover Gems at Snow Summit
Choose Your Treasures
Sift Through Sand & Rocks
This product is no longer on sale. Check back June 2024.
Pint-sized prospectors will enjoy getting their hands dirty as they sift through sand and rocks at Summit Mining Co. in hopes of striking it rich. Grab a bag of mining rough where gemstones, arrowheads and other fun finds are hidden, then uncover the treasures by using a screen tray and water flume in the sluice box in the base area at Snow Summit.
Resort Address
Snow Summit

880 Summit Blvd
Big Bear Lake, CA 92315
Open in Google Maps
Please note: Basecamp Activities are not offered at Bear Mountain or Snow Valley.
Hours of Operations
Closed for the season; reopens June 2024
Compare Tickets
| | Climbing Ticket | Bungee Ticket | Zip Ticket | Tube Ticket | Throttle Ticket | Scenic Sky Chair Ticket | Day Pass |
| --- | --- | --- | --- | --- | --- | --- | --- |
| Price Range | $19-$27 | $19-$27 | $19-$27 | $19-$27 | $19-$27 | $21-$39 | $44-$59 |
| Climbing Wall | 3 Routes | | | | | | Unlimited Day Access |
| Euro Bungee | | 3 Minutes | | | | | Unlimited Day Access |
| Zip Line | | | 1 Zip | | | | Unlimited Day Access |
| Grizzly Ridge Tube Park | | | | 2 Runs | | | Unlimited Day Access |
| Kids Full Throttle | | | | | 2 Runs | | Unlimited Day Access |
| Scenic Sky Chair Rides | | | | | | 1-Round Trip | Unlimited Day Access |
Deals & Discounts
Birthday: Free climbing wall single-use ticket. Learn more about birthday deals.
Child Bike Park Lift Ticket Discounts: Upgrade your Adventure Day Pass by adding on a Child (ages 5-12) bike park lift ticket for $15. Start by adding an Adventure Day Pass to your cart, then you'll be prompted to add on a child MTB ticket.
More Discounts: Military & group discounts available.
In the Snow Summit base area, near Bighorn Smokehouse. Sandbags must be picked up at the Snow Summit ticket windows.
Purchasing Bags

Sandbags are available for purchase online or at the Snow Summit ticket windows. The last bag is sold 30 minutes prior to closing.

Choose Your Treasures

Decide what you will uncover by selecting from several different bags of mining rough that each come with a keeper bag for your finds and an educational ID postcard so you can easily identify your discoveries.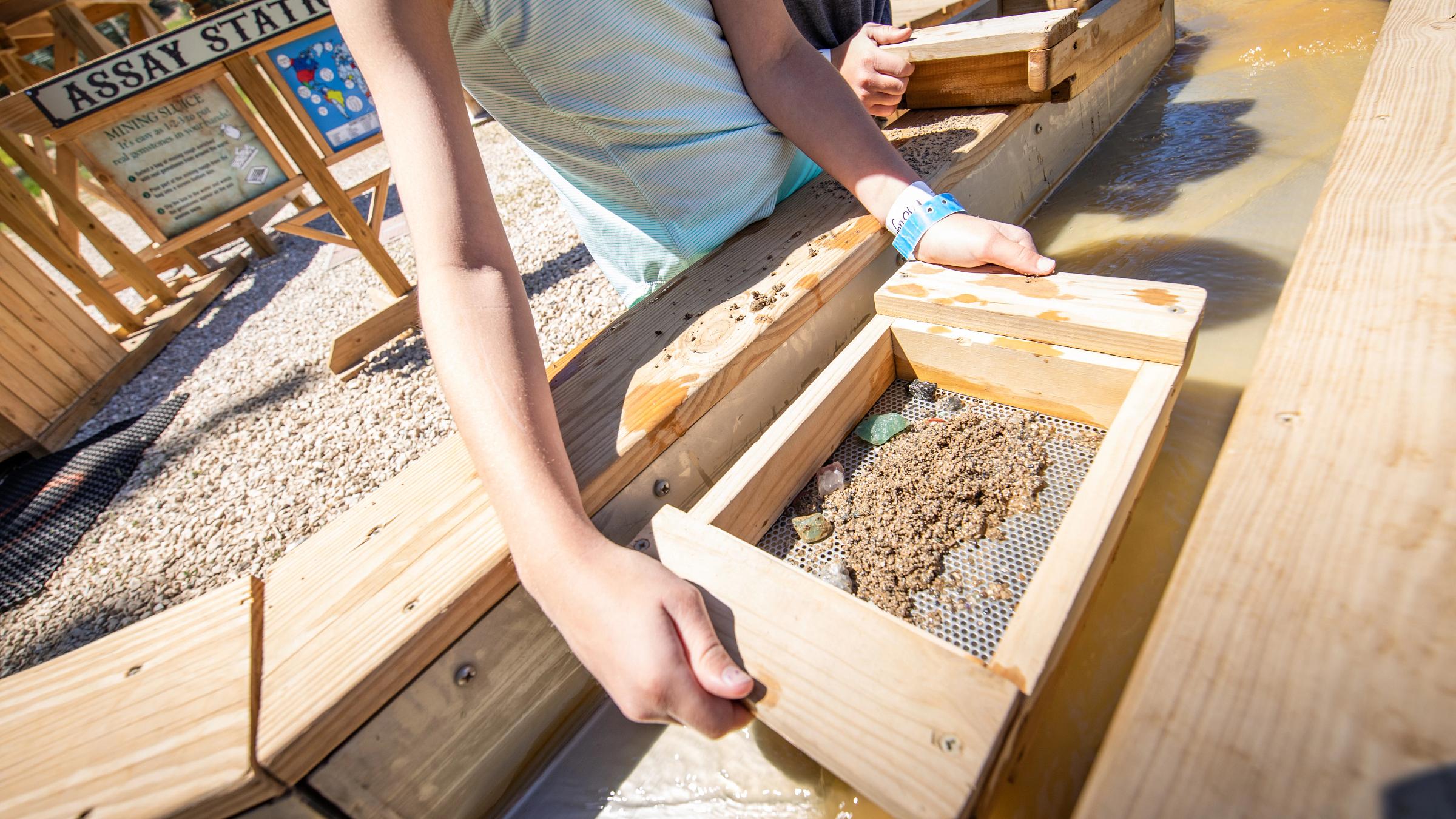 Pay Dirt
$12 Per Bag

Mine for 6+ oz. of gemstones hidden in 3 lbs of sand. Includes 1 (one) treasure bag with gemstone postcard, keeper bag, and personalized labels for the bag.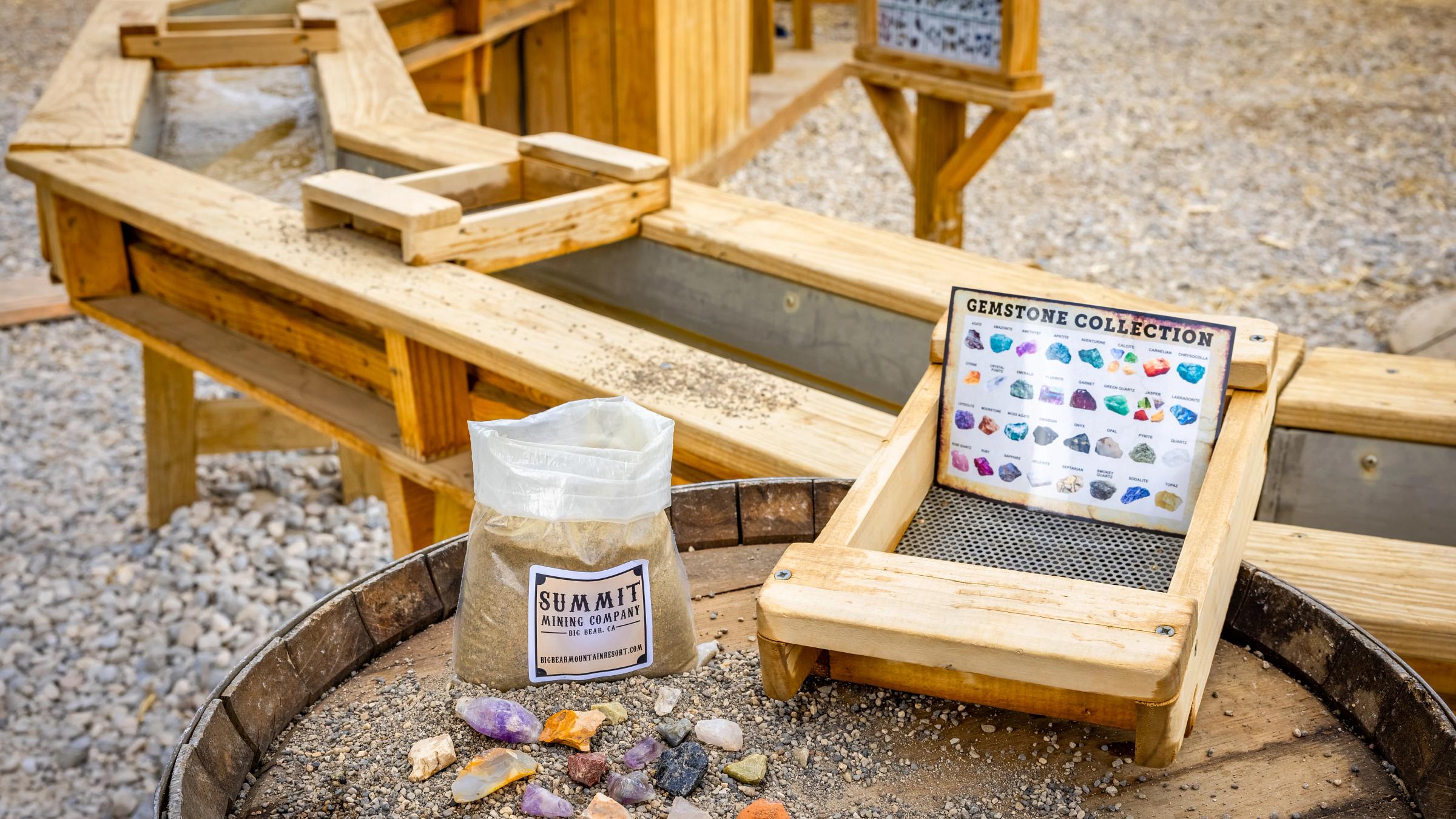 Arrowhead Find
$12 Per Bag

Search for 7 stone arrowheads hidden in 3 lbs of sand. Includes 1 (one) treasure bag with keeper bag, and personalized labels for the bag.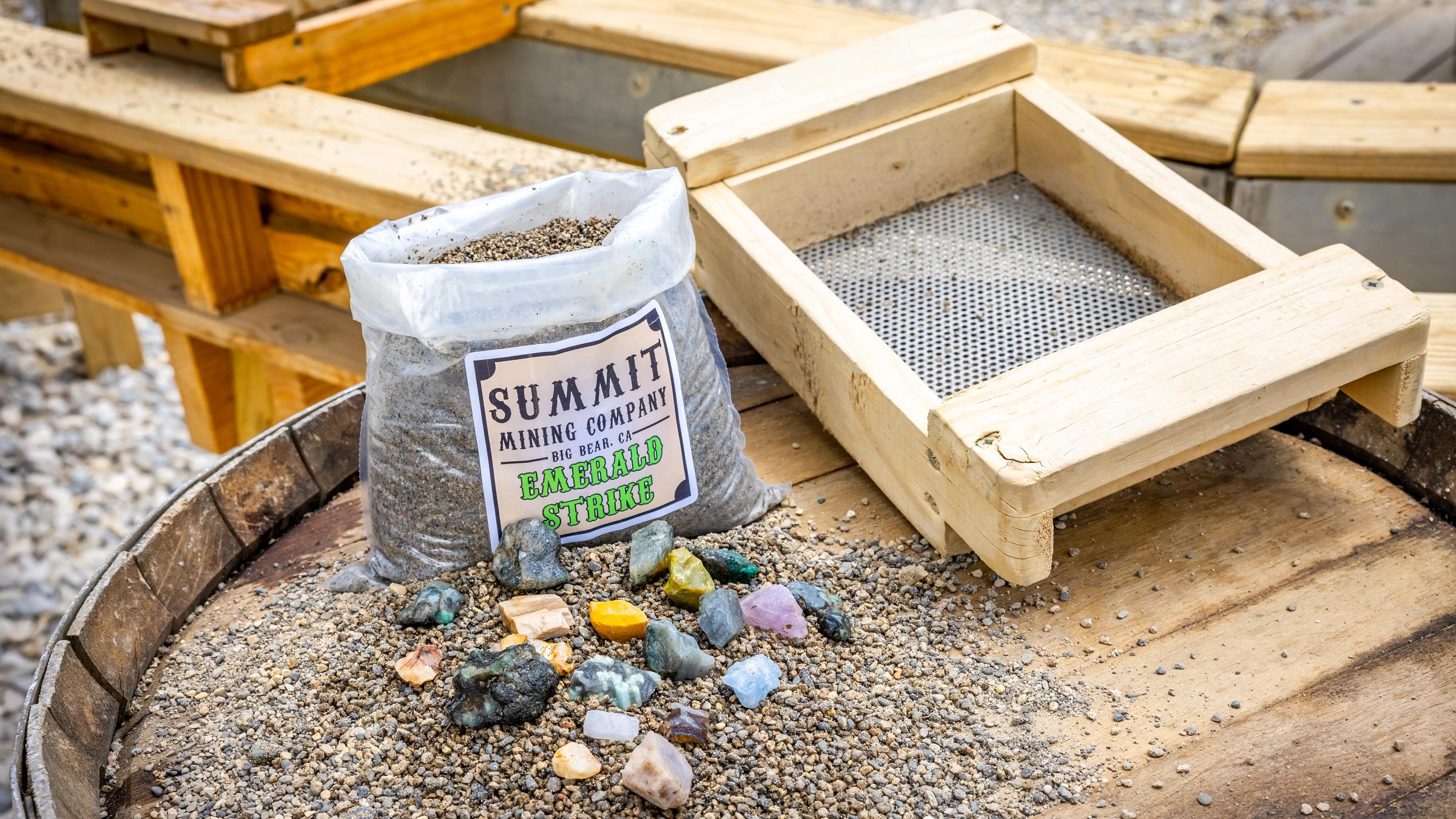 Emerald Strike
$17 Per Bag

Find Emeralds through 5lbs of sand. Includes 1 (one) treasure bag with gemstone postcard, keeper bag, and personalized labels for the bag.
Mother Lode
$25 Per Bag

Sift through 10+ oz of fossils, shark teeth, arrowheads, and Amethyst druzy. Includes 2 (two) collection bags with gemstone & fossil combo postcard, keeper bag, and personalized labels for the bags (3 total).
Using Gift Cards, ACV, and other Forms of Payment
Gift Cards, Pass Holder Discounts, Pass Cash, and Activity Change Vouchers cannot be applied online at this time. These forms of payments can only be used in-person or by calling 844.GO2.BEAR. Credit card tokenization is the process of de-identifying sensitive cardholder data by converting it to a string of randomly generated numbers called a "token." Similar to encryption, tokenization obfuscates the original data to render it unreadable in the event of a data breach or other exposure. If you are having issues with your card, please call your bank directly.

Refund & Cancellation Policy
Guests may change or cancel lift ticket, lesson, rental, or activity reservations up to 3 full days prior to the scheduled date for a full refund. Changes or cancellations made within 3 days, up until the day prior to the scheduled date, will result in an Activity Change Voucher being issued for the full value of the activity cost (no fee). Same-day changes, cancellations, or failure to show up to your activity will result in a full forfeit of your payment. Once you make a purchase, if those funds are removed from Big Bear Mountain Resort's account and given back to you, your purchased tickets will become void and irredeemable for entry. Fraudulent attempts to force a bank or credit card chargeback by claiming you didn't make the ticket purchase or can't identify the purchase on your bank statement will result in being barred from attending future events hosted by Big Bear Mountain Resort.

Promotional sales or events including but not limited to Glow Golf and Above the Boom, do not qualify for refunds. All sales are final.
Risk Warning & Emergency Hotline

Skiing, snowboarding, mountain biking, and other outdoor activities have inherent risks that may result in property damage, personal injury, or death. GUESTS ARE RESPONSIBLE FOR THEIR OWN SAFETY AND ASSUME ALL INHERENT RISKS ASSOCIATED WITH PARTICIPATING IN OUTDOOR ACTIVITIES. All guests must follow the Big Bear Mountain Resort rules of conduct and NSAA Responsibility Code. Visit the Safety page for complete details. Lift tickets and season passes may be suspended or revoked without refund at any time for failure to comply with resort rules, misconduct, nuisance, reckless behavior, or fraudulent use. Anyone attempting to use a lift ticket or season pass fraudulently or in a manner for which it is not intended is subject to prosecution under California Penal Code 537(b). Facilities under permit from the U.S. Forest Service.
Avoid Fraud

Lift tickets are non-transferable and are not for resale. Violators may be prosecuted under California Penal Code 537 PC. To ensure the safety of our guests and employees, all ski, snowboard, and bike lessons at Big Bear Mountain Resort must be booked with a certified, BBMR instructor. Anyone found offering/selling or purchasing a 3rd party/non-BBMR lesson at BBMR will forfeit their resort access, including lift privileges, and be subject to prosecution, pursuant to California Penal Code 537 PC.