Parking
Know Where to Park for Big Bear Mountain Resort
Winter Season Parking
23/24 Premium Parking Passes are Sold Out
Big Bear Mountain Resort operates multiple parking lots. Spaces in all lots are available on a first-come, first-served basis with Reserved Parking ($20-$50 per vehicle, per day) in effect on select dates for
upper lot parking
.
Upper lot parking fees are not included with Lift Ticket, Lesson, Rental, or Tubing/Snow Play, etc. Parking tickets must be purchased separately. Electric car charging stations are not available at Snow Valley, Snow Summit, or Bear Mountain.
Online parking reservations must be reserved at least 24 hours prior to arrival.
Guests may buy day-of with a parking attendant if spots are still available. Spots typically sell out 3-5 days prior to a weekend date.
Pro Tips
:
CARPOOL: To help alleviate traffic congestion at Big Bear Mountain Resort and the surrounding mountain communities, we encourage visitors to carpool whenever possible. Carpooling can reduce the number of vehicles on the road and contribute to a more sustainable and less congested experience for everyone. Thank you for your cooperation in making the mountain areas more accessible and enjoyable for all.
PARK IN PUBLIC PARKING LOTS: A convenient option for visitors to Big Bear Mountain Resort is to park in the public lots provided by the City of Big Bear Lake and then use the free Mountain Transit to get dropped off at the resorts. This approach not only helps reduce traffic and parking congestion but also provides an environmentally friendly and hassle-free way to access the resort. It's a win-win for both visitors and the community.
STAY PARKED AT YOUR LODGING: If you're staying at a lodging location in Big Bear Lake, it's advisable to leave your car parked at your accommodation and utilize the free mountain transit service to get dropped off in the base area of the resort. This approach not only reduces traffic and parking issues but also enhances the convenience of accessing the resort's facilities. It's a practical and eco-friendly way to enjoy your stay in the area.
The BBMR Mobile App offers real-time updates on parking for Snow Valley, Snow Summit, and Bear Mountain parking lots.
Download the App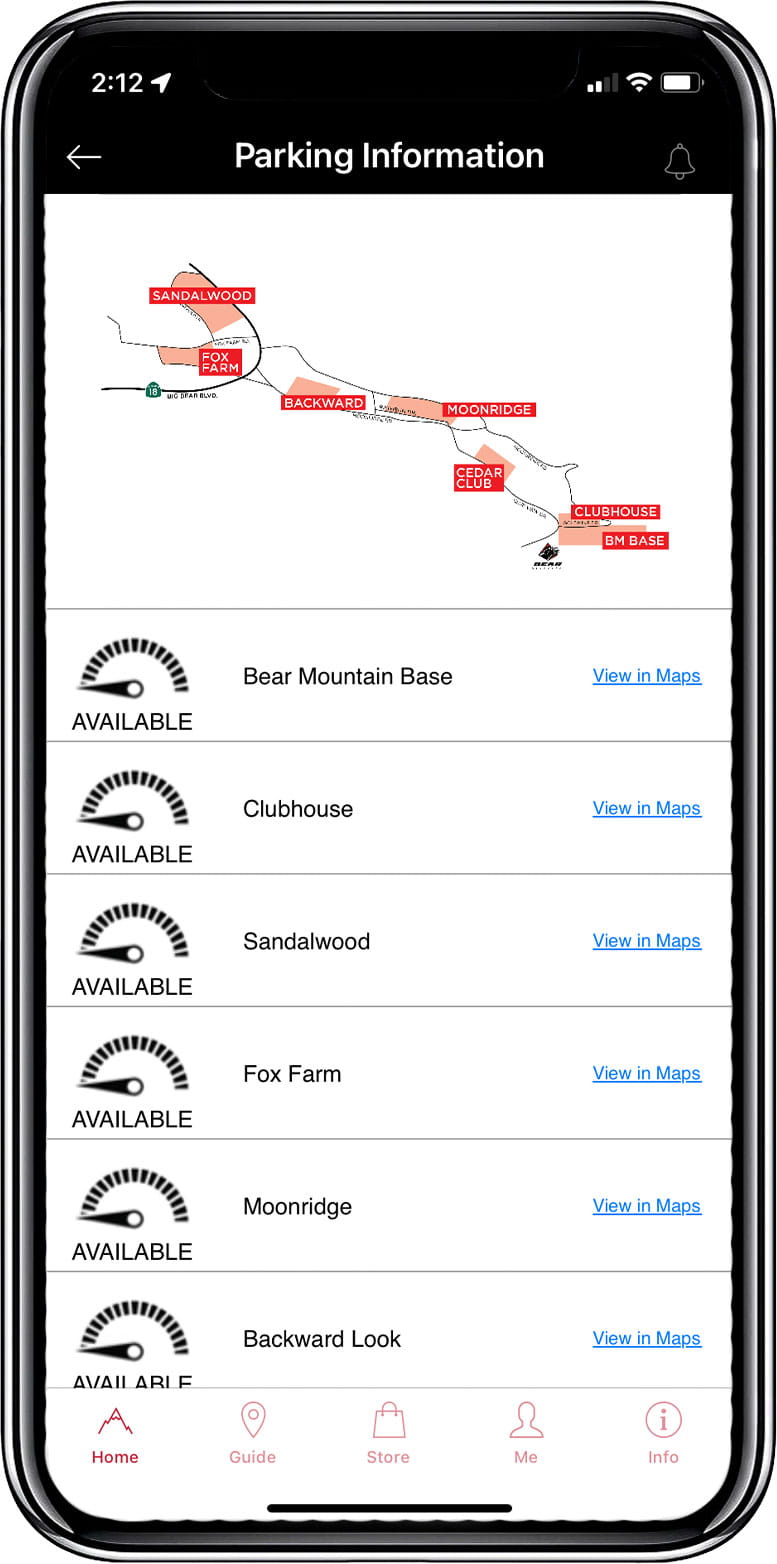 Using Gift Cards, ACV, and other Forms of Payment
Gift Cards, Pass Holder Discounts, Pass Cash, and Activity Change Vouchers cannot be applied online at this time. These forms of payments can only be used in-person or by calling 844.GO2.BEAR. Credit card tokenization is the process of de-identifying sensitive cardholder data by converting it to a string of randomly generated numbers called a "token." Similar to encryption, tokenization obfuscates the original data to render it unreadable in the event of a data breach or other exposure. If you are having issues with your card, please call your bank directly.

Refund & Cancellation Policy
Guests may change or cancel lift ticket, lesson, rental, or activity reservations up to 3 full days prior to the scheduled date for a full refund. Changes or cancellations made within 3 days, up until the day prior to the scheduled date, will result in an Activity Change Voucher being issued for the full value of the activity cost (no fee). Same-day changes, cancellations, or failure to show up to your activity will result in a full forfeit of your payment. Once you make a purchase, if those funds are removed from Big Bear Mountain Resort's account and given back to you, your purchased tickets will become void and irredeemable for entry. Fraudulent attempts to force a bank or credit card chargeback by claiming you didn't make the ticket purchase or can't identify the purchase on your bank statement will result in being barred from attending future events hosted by Big Bear Mountain Resort.

Promotional sales or events including but not limited to Glow Golf and Above the Boom, do not qualify for refunds. All sales are final.
Risk Warning & Emergency Hotline

Skiing, snowboarding, mountain biking, and other outdoor activities have inherent risks that may result in property damage, personal injury, or death. GUESTS ARE RESPONSIBLE FOR THEIR OWN SAFETY AND ASSUME ALL INHERENT RISKS ASSOCIATED WITH PARTICIPATING IN OUTDOOR ACTIVITIES. All guests must follow the Big Bear Mountain Resort rules of conduct and NSAA Responsibility Code. Visit the Safety page for complete details. Lift tickets and season passes may be suspended or revoked without refund at any time for failure to comply with resort rules, misconduct, nuisance, reckless behavior, or fraudulent use. Anyone attempting to use a lift ticket or season pass fraudulently or in a manner for which it is not intended is subject to prosecution under California Penal Code 537(b). Facilities under permit from the U.S. Forest Service.
Avoid Fraud

Lift tickets are non-transferable and are not for resale. Violators may be prosecuted under California Penal Code 537 PC. To ensure the safety of our guests and employees, all ski, snowboard, and bike lessons at Big Bear Mountain Resort must be booked with a certified, BBMR instructor. Anyone found offering/selling or purchasing a 3rd party/non-BBMR lesson at BBMR will forfeit their resort access, including lift privileges, and be subject to prosecution, pursuant to California Penal Code 537 PC.