Parents' Guide to Big Bear Mountain Resort
Tips for Getting Your Kids on the Slopes Faster
Every winter, Big Bear Mountain Resort (BBMR) welcomes kids of all ages and abilities to our twin properties – Bear Mountain and Snow Summit – to experience the thrill of skiing and snowboarding in a fun, safe environment.
If your little shredders have never been on the slopes, or it's been a while since their last visit to BBMR, you may have some questions.
Get started with these 10 time-saving tips to make sure your next trip to SoCal's snow capital is filled with alpine good times from first chair to last laps:
Book in Advance
Book your trip in
advance online
or by calling
844.GO2.BEAR
(462.2327) to lock in the lowest rates on
lift tickets
, guarantee your child's
lesson
time, and secure
equipment rental
sizes.
Season Passes & Lift Tickets

All guests must have a valid
season pass
or
lift ticket
to participate in on-hill activities and receive chairlift access. Please note, a valid season pass or lift ticket is required even if the activity does not require using the chairlifts.
Purchase online
.
Equipment Rentals

Big Bear Mountain Resort offers on-site ski and snowboard
equipment rentals
. Rental shops offering the latest equipment, including skis, snowboards, boots (child sizes 1-13), and helmets are conveniently located in both base areas for easy pick up and drop off.
Reserve rentals
.
Ski & Snowboard Lessons

BBMR offers
private and group lessons
. Let our team of award-winning, certified instructors help your kids develop the skills -- and spirit -- they need to succeed on the slopes. Private lessons are open to ages 4 and up and group lessons are open to 5 and up.
Book a lesson
.
Tip: Book in advance and sign your child's
22/23 Release of Liability Waivers
digitally online to speed up the
check-in process
when you arrive.
NOTE: Lesson reservations do not include lift tickets or equipment rentals. Please remember to add all additional services (lift tickets, rentals, etc.) to your cart before checking out. All children ages 12 & under must wear a helmet during lessons.
Deals & Promotions

Free Lift Tickets

Big Bear Mountain Resort offers free lift tickets to guests ages 4 and under. Visit the Bear Mountain or Snow Summit ticket windows to redeem. Free kids tickets are not transferable and may not be sold or redeemed for cash. For more info, check out the
Toddlers & Seniors
page.
Save 20% on Equipment Rentals

Book at least 7 days in advance and save 20% on your equipment rentals all season long.
Get the deal
.
Military Discounts

Active duty and retired military personnel and their dependents save 25% on lift tickets.
Learn how to redeem
.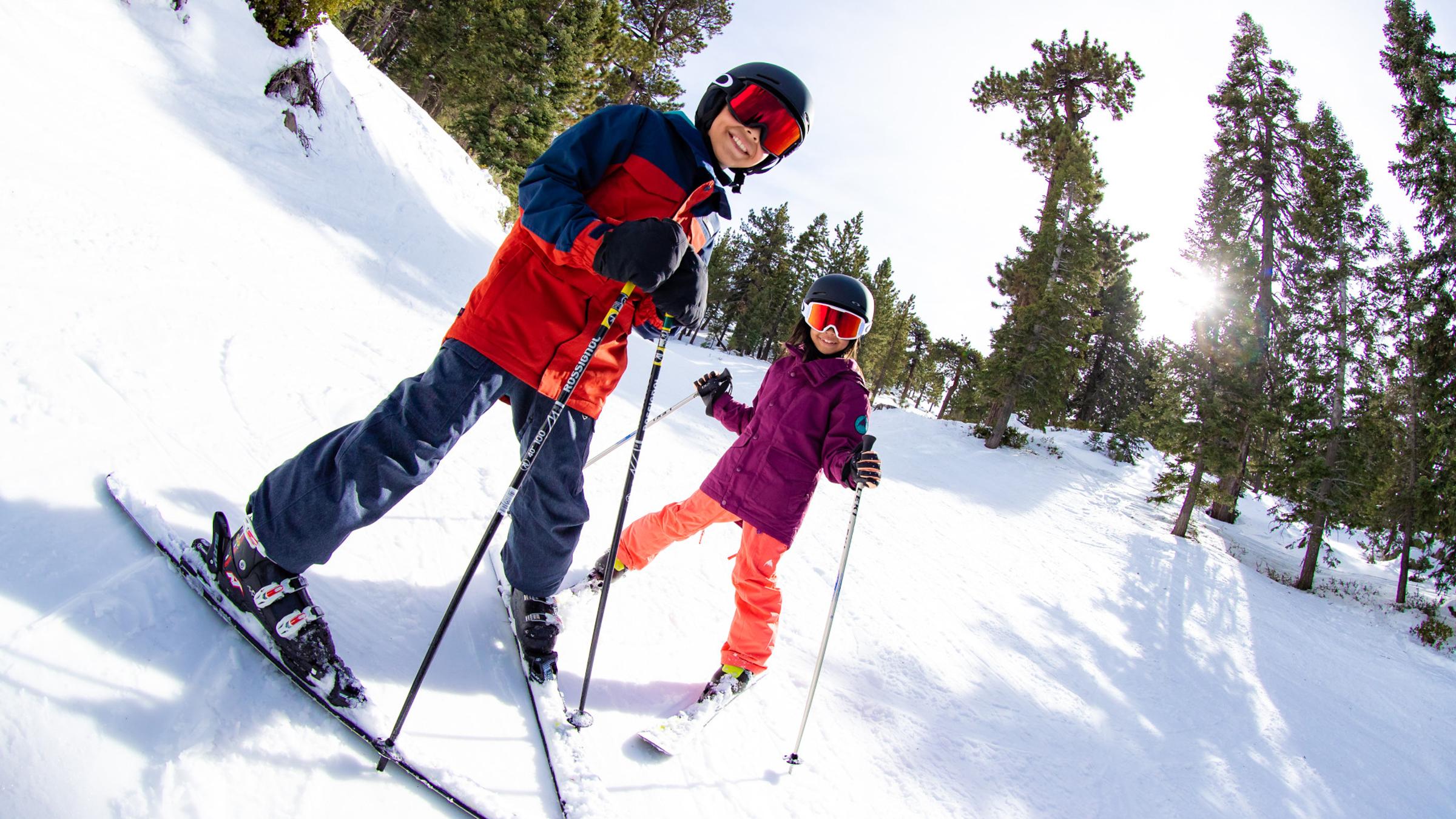 Kids Winter Clothing Guide
Weather conditions and temperatures can vary greatly in the mountains. BBMR highly recommends all guests wear multiple layers, including a moisture-wicking base layer, insulating middle layer, and water-resistant outer layers. Helmets, water-resistant accessories (ex. Gloves), mid-calf socks, and protective eyewear (goggles or sunglasses) are also recommended.
Tip: Gear up as much as possible before you arrive to get on the slopes faster. If you forget something, or just want to grab some Bear Mountain or Snow Summit branded gear, stop by Big Bear Sports – located in the base area – or check out our
online retail store
.
NOTE: UV exposure is 2% higher for every 1,000 feet above sea level, so remember to use sunscreen with SPF 30 or higher during your visit – even on cloudy days – and reapply throughout the day.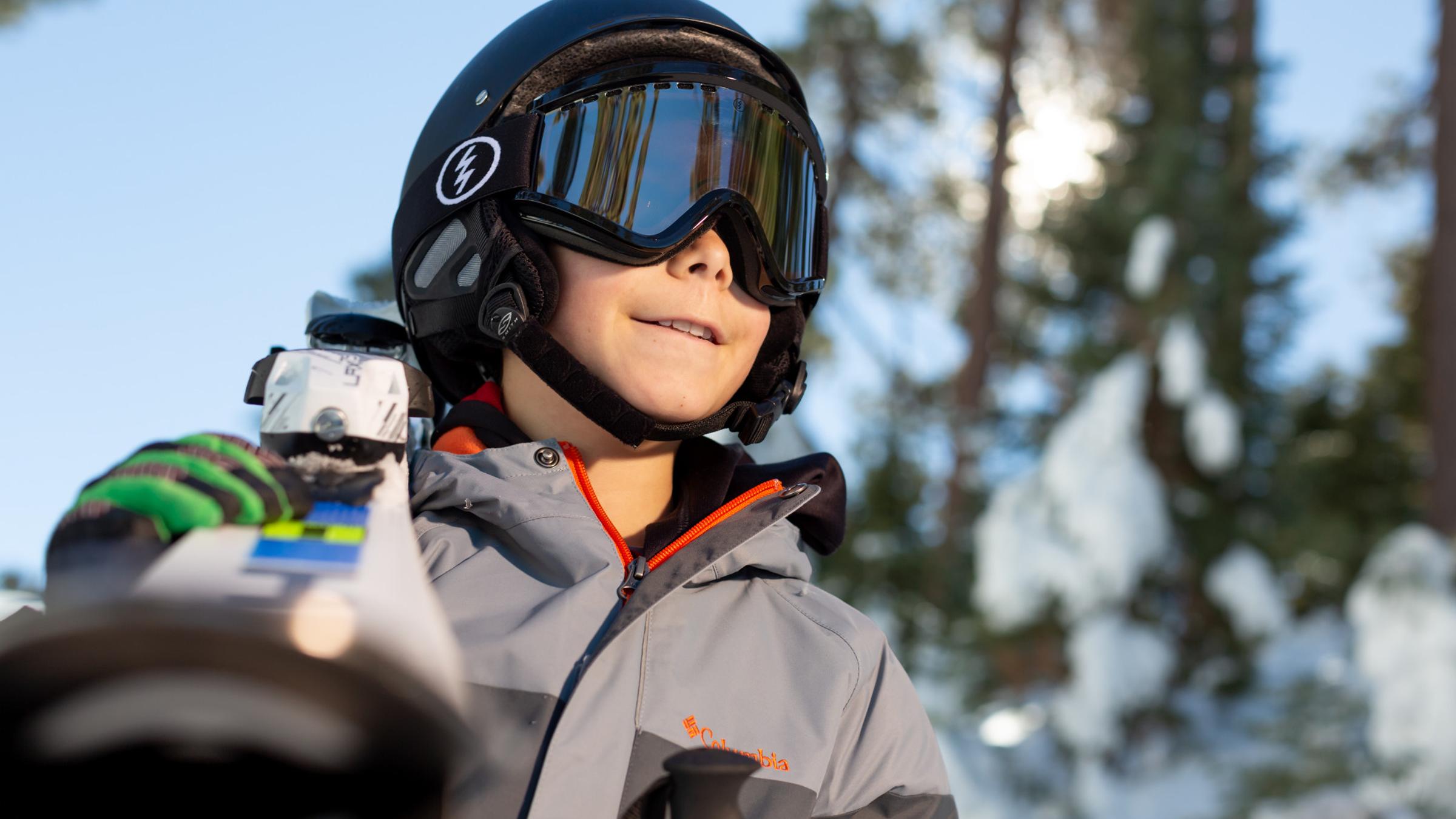 Our Mountains - Bear Mountain & Snow Summit
Big Bear Mountain Resort operates two properties – Bear Mountain and Snow Summit – that are located 2 miles apart. Both resorts offer unique kid-friendly experiences that are tailored to your child's age, ability, and needs.
Bear Mountain

Award-winning terrain parks
Largest learning area in Southern California
State-of-the-art Adventure Academy with designated kids learning area

Snow Summit

More beginner-friendly terrain
Night Sessions on select dates
State-of-the-art Adventure Academy with designated kids learning area
Tip: All BBMR lift tickets are valid for same-day use at both mountains, excluding Night Sessions, so guests can ski or ride both sides. Free intermountain shuttle service is available on select dates. Learn more.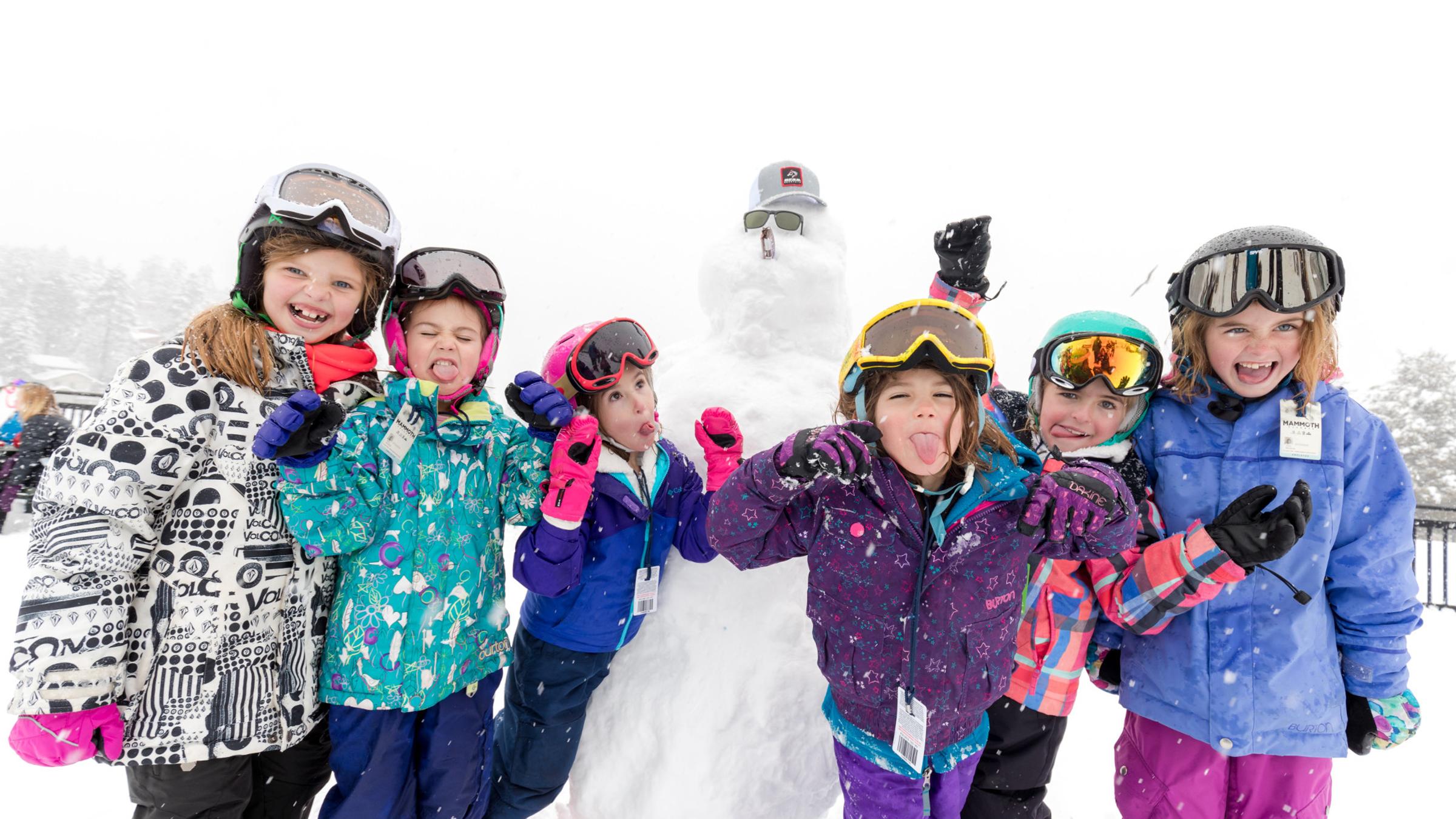 Beginner Lifts & Trails
Bear Mountain and Snow Summit have terrain for all ages and abilities, including a combined 12 beginner trails, plus designated areas for kids lessons. Beginner trails are denoted with a green circle on all trail maps and on-hill directional signage. Check out the
Trails Maps
to familiarize yourself with each mountain before you arrive.
Tip: Download the
BBMR mobile app
to view and download our trail maps to your mobile device.
NOTE: All children shorter than 51" (including helmet) must be accompanied by a parent or guardian on lifts. All moving carpets in beginner areas are reserved for guests with lesson reservations and are not available to the general public.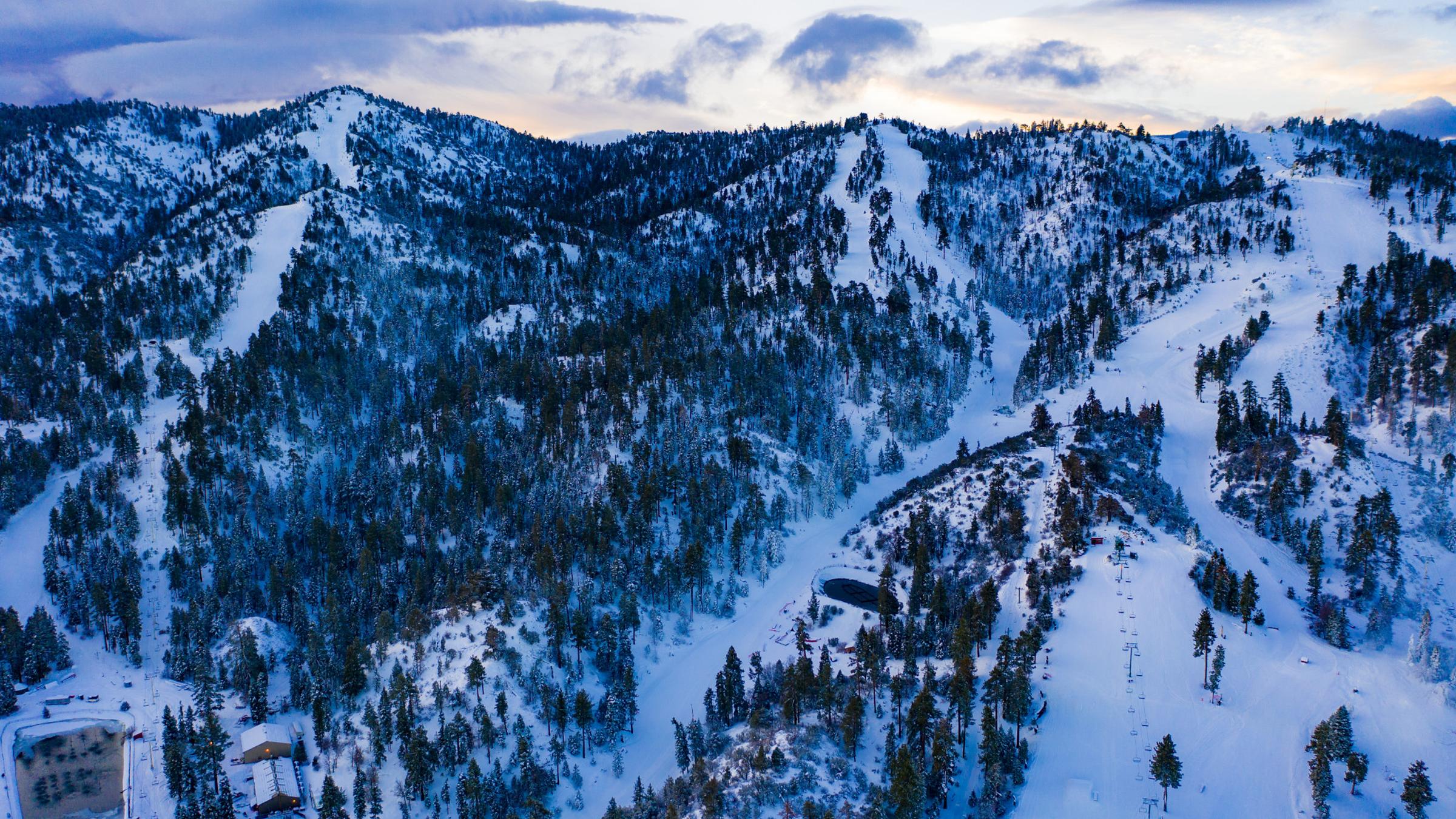 Kid-Friendly Après
Big Bear Mountain Resort has over 30 on-site dining venues between Bear Mountain and Snow Summit, with options for every type of eater, so your kiddos can fuel up before, during, or after a fun-filled day on the slopes. Warm up with a cup of Huski hot chocolate around the fire pit, take a photo with Biggie the Bear, or check out the Candy Corner at Snow Summit, located in the base area across from the ticket windows, for an afternoon treat.
NOTE: Food ordering is scheduled to be available on the BBMR mobile app starting in the 2022/2023 winter season.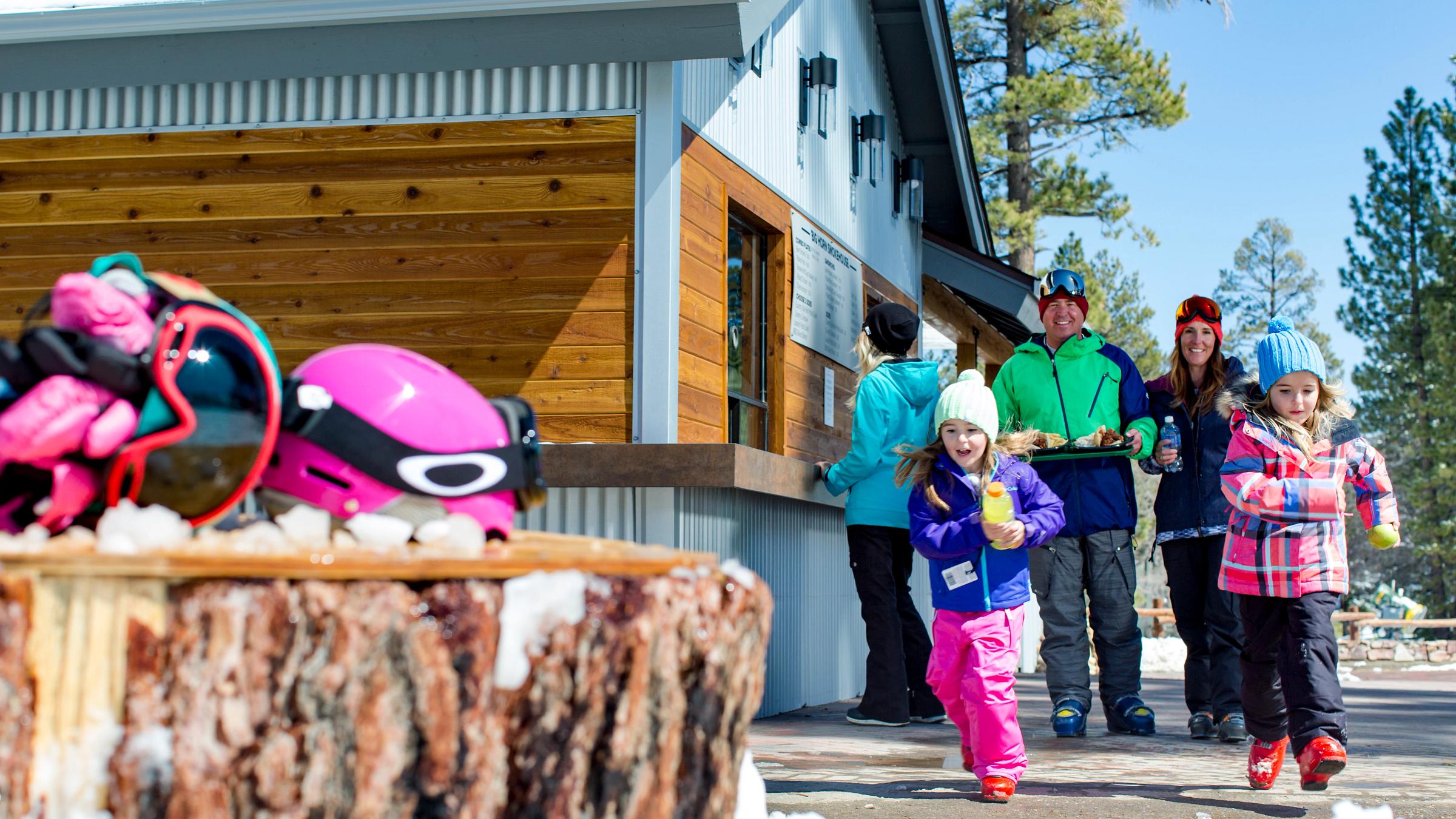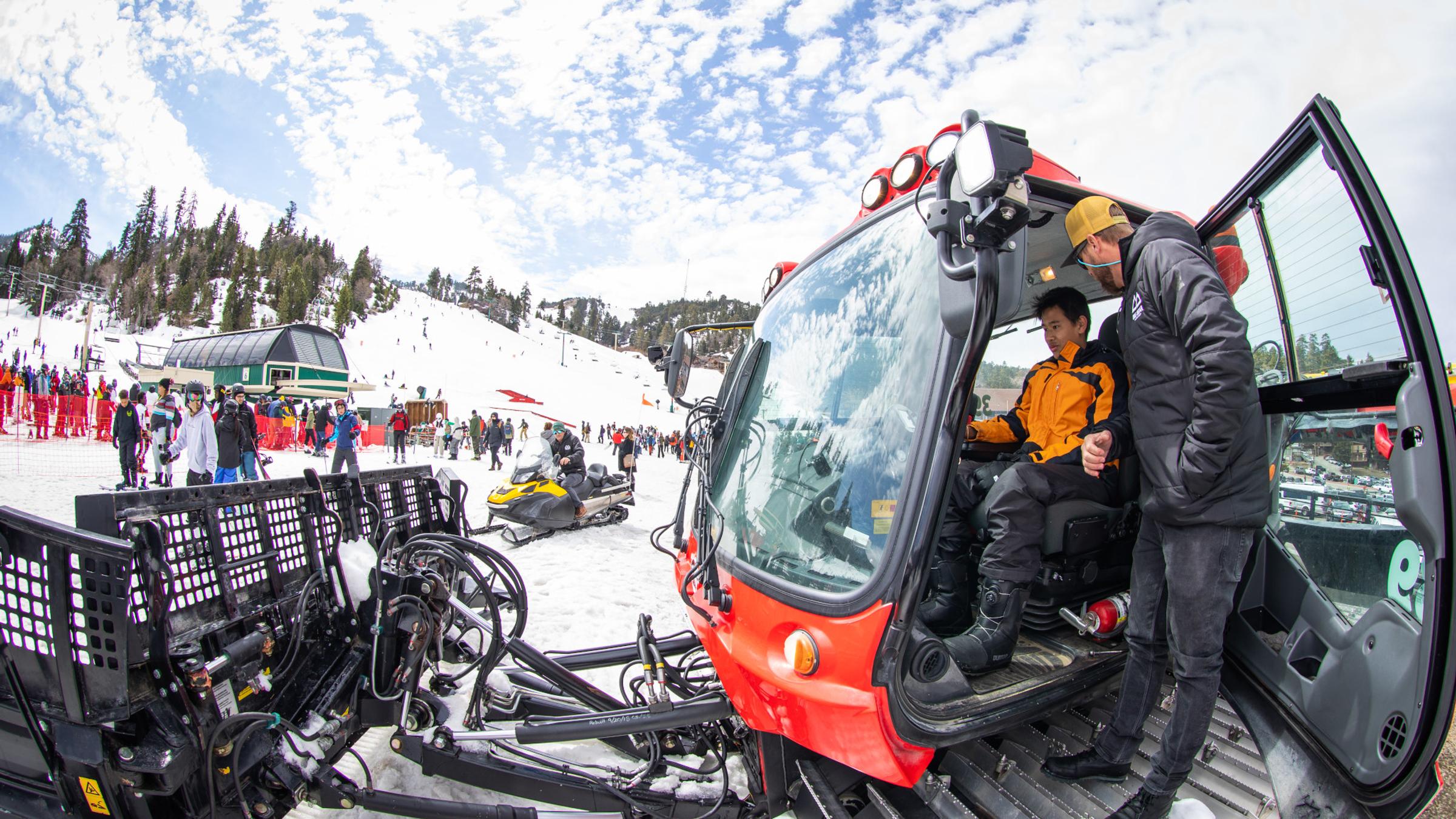 Freestyle & Race Teams
If your child wants to take their skills to new heights, check out Big Bear Mountain Resort's race and freestyle programs. Available for ages 6-20. Some restrictions apply.
Explore the training teams
.
NOTE: Participants should be able to ski or ride intermediate to advanced/expert terrain prior to registering. Spaces for both programs are limited, so be sure to sign up at the beginning of the season.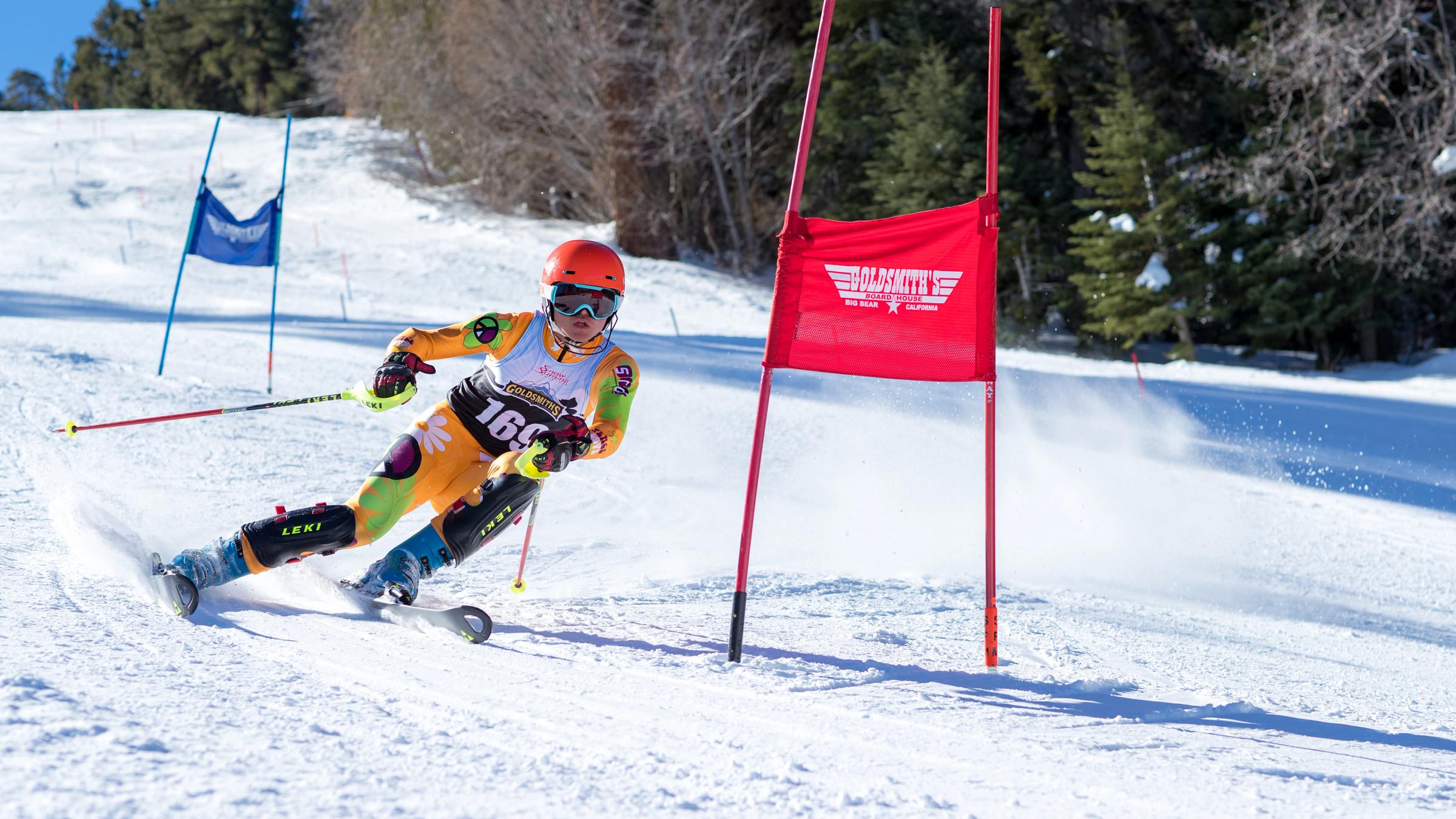 Gift Cards
If your kids are ready to hit the slopes on their own, avoid the hassles that come with cash and get them a gift card instead. BBMR gift cards can be used to purchase most on-site products and services, from hot dogs to hand warmers, and are easier for kids to use than trying to make exact change in the middle of the lunch rush so they can get back on the slopes faster.
Tip: Purchase gift cards online at least two weeks in advance to ensure delivery before your trip or in-person at the ticket windows or Big Bear Sports.
Buy online
.
Chairlift Safety and Lost & Found
At Big Bear Mountain Resort, safety is our top priority. Make sure your kids are ready for their trip to the mountains by reviewing the following chairlift safety tips with them so they're prepared before their first pow turns.
Children shorter than 51" (including helmet) may be assisted by lift operators unless instructed differently by their parent or guardian.

Small children should always be accompanied by an adult on the chairlifts and sit on the outside of the chair next to the armrest for added security.

When riding a fixed grip chairlift, (chairlifts that do not automatically slow down while loading and unloading), children should be positioned on the side next to the lift operator.

Children with ski poles should remove the straps from their wrists and hold them in their outside hand while loading.

Quickly move from the Wait Here signs to the Load Board when instructed by lift operators. If your child requires assistance, please inform the lift operators prior to reaching the Load Board.

As the chair approaches for loading, always turn to the outside of the chair, reach back with free hand, and grab the vertical pole when it arrives. Do not lunge toward the chair.

Children should hold on to the vertical bar until it is time to unload the chairlift.

Children should sit all the way back in the lift with their back touching the back of the chair.

Children should sit still and avoid sudden movements until they reach the unloading area.
Lost & Found

Please visit or call our Security offices if you have an emergency or to inquire about any items that may have gone missing during your visit.
Text: 909.318.2869
Call: 909.366.4944
Email: summitsecurity@bbmr.com
Snow Summit Security is located on the west end of the base area in the Admin Building, 1st floor.
Text: 909.323.5084
Call: 909.939.7180
Email: bearsecurity@bbmr.com
Bear Mountain Security is located on the east end of the base area, below the ADA ramp.
Parent Waiting Areas
Base Areas

Parents or guardians not participating in on-hill activites may observe their children during their day on slopes, provided they observe all posted signage and/or staff directions, do not interfere with resort operations, and are not intrusive to other guests. Both mountains have multiple locations that are perfect for observing and après.
Bear Mountain

Sundeck seating across from Laybacks & BBQ in the Park

Elevated deck behind Outlaw Bar & Grill on the east end of the sundeck

Patio area below chairs 6 & 7

Adventure Academy designated viewing deck
Snow Summit

Hawks '52 deck on the main lodge top floor

Deck areas between chairs 1 & 2

Slopeside Speakeasy deck next to chairs 2 & 11

Adventure Academy designated viewing areas
NOTE: All viewing/seating areas are available on a first come, first served basis.
Parking

Big Bear Mountain Resort operates multiple parking lots, including upper lot/on-site and remote locations. Reserved parking ($25-$40 per vehicle, per day,) in effect on select dates. Cost is per car, per day. Guests looking for free parking options may park in the remote lots.
Pick-Up & Drop-Off Zones

Short-term parking for picking up and/or dropping off guests is available in the upper parking lots at both mountains. To access the zones, follow all directional signage and/or staff directions and turn on your hazard lights while using the zones.
Mountain Transit

Guests staying in town can also get to/from the resort by taking Mountain Transit for free. Just flash your season pass, lift ticket, or reservation confirmation.
All guests must have a valid lift ticket or season pass to receive access to Bear Mountain or Snow Summit on-hill activities, including but not limited to skiing, snowboarding, and snow tubing (restrictions apply). At this time, lift tickets or season passes are not required for base area access, subject to change. BBMR does not offer any snow play or general recreation areas and winter non-lift uphill access is not permitted at any time. Guests attempting to access BBMR lifts and trails or participating in on-hill activities without a valid lift ticket or season pass may be subject to disciplinary action, including suspension or revocation of lift privileges and removal from the resort.